07-Jul-2022: Latest News from Denton Hall Stables the home of Michael Dods Racing
05-Jul-2022: Wor Willie strides to easy success under Paul Mulrennan at Pontefract
01-Jul-2022: Second career win for Alethiometer under Connor Beasley at Doncaster
21-Jun-2022: Proud Archi makes it five course and distance wins at Beverley
10-Jun-2022: York double for the yard as Northern Express defies topweight under Paul Mulrennan
10-Jun-2022: Gale Force Maya makes it her 10th career win at York
09-Jun-2022: Arch Moon bounces back to form with easy win under Connor Beasley at Haydock
08-Jun-2022: Azure Blue impresses under Paul Mulrennan at Hamilton
A visit from one of my biggest fans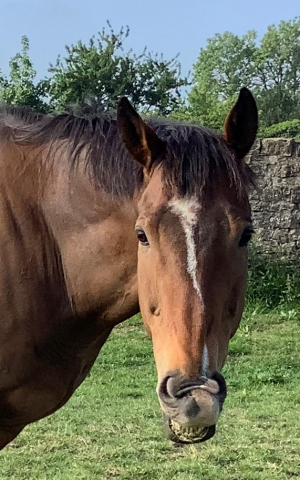 Evening all,
Barney McGrew here – possibly the most charismatic and talented horse anywhere on the planet.
As you know, I don't tend to write blogs during the week – mainly because I can't be arsed – but I've made an exception because I've had a visit from one of my biggest fans.
She's a human called Felicity Hewitt and she travelled up all the way from Epsom to see me. For all you armchair fans out there, who can't be bothered to get off their backsides, that's a trip of 271 miles. Puts you all to bloody shame, doesn't it?
OK, so she also happened to be visiting her mother for her 91st birthday but that wasn't the main reason for coming up. It was just an excuse to come and see me.
Felicity – or Fliss as I like to call her – used to work for The Gaffer's dad, Richard, back in the day when he had a permit to train jump horses. Her own father was the Vicar at Denton Church and was good friends with Richard.
My Carole gave her a tour of the yard, so she could see all the changes, and she really is a lovely lady who clearly has very sound judgement. She wasn't all that fussed about seeing the likes of Dakota Gold, Que Amoro and Commanche Falls – she just couldn't wait to get to my field to see the real star of the show.
Oh, and she brought carrots, apples and mints. As you can see from the picture, they were Trebor mints, so I'll be on to them for some sponsorship. It's worth a lot of money to businesses to be associated with Barney McGrew.
My only slight complaint is that she brought the goodies in a Tesco bag. I'd have expected Waistrose at the very least for a horse of my class.
Anyway, it was lovely to see you, Fliss. Thanks for coming – and showing the rest of the lazy buggers what being a true fan is all about.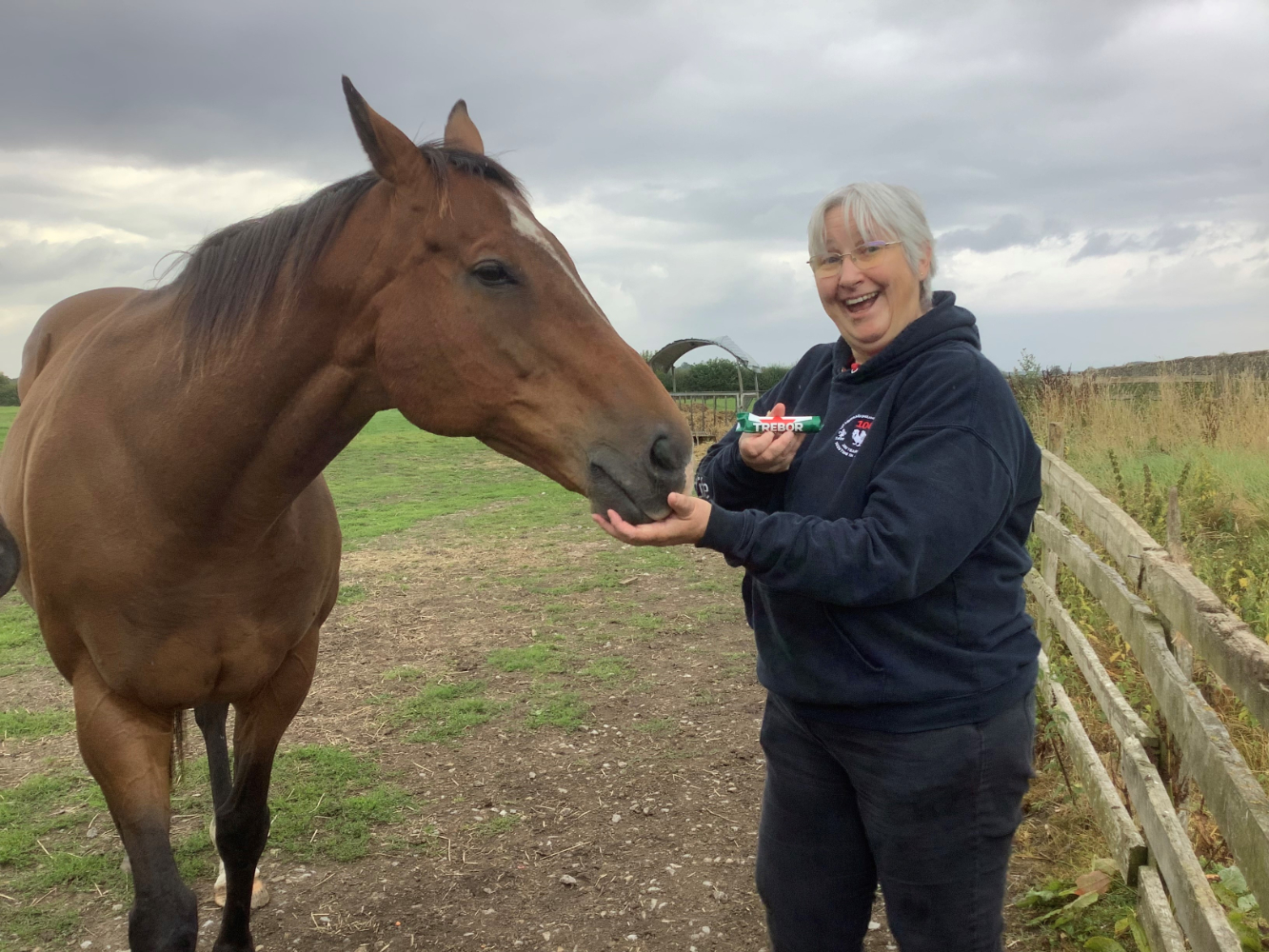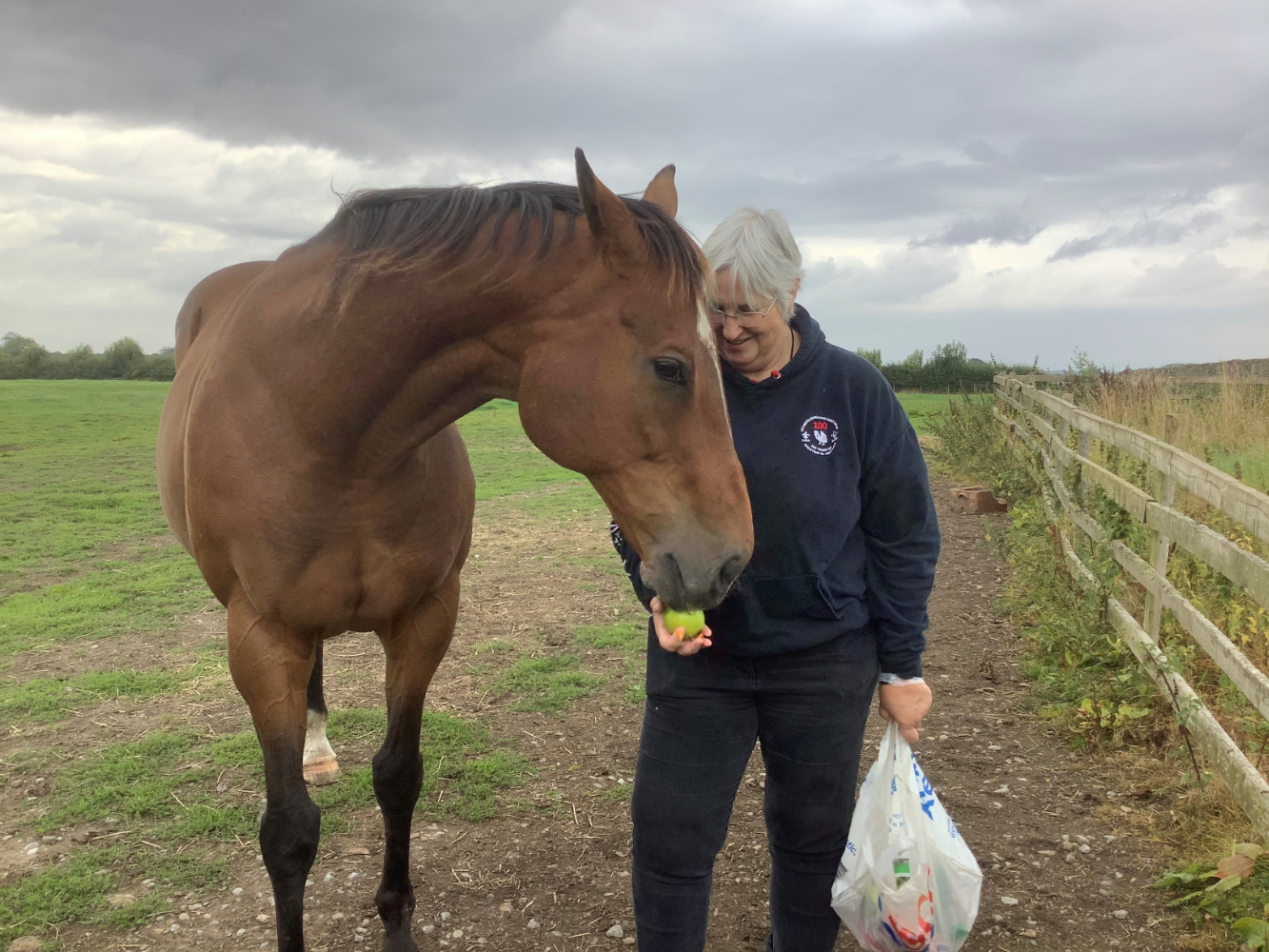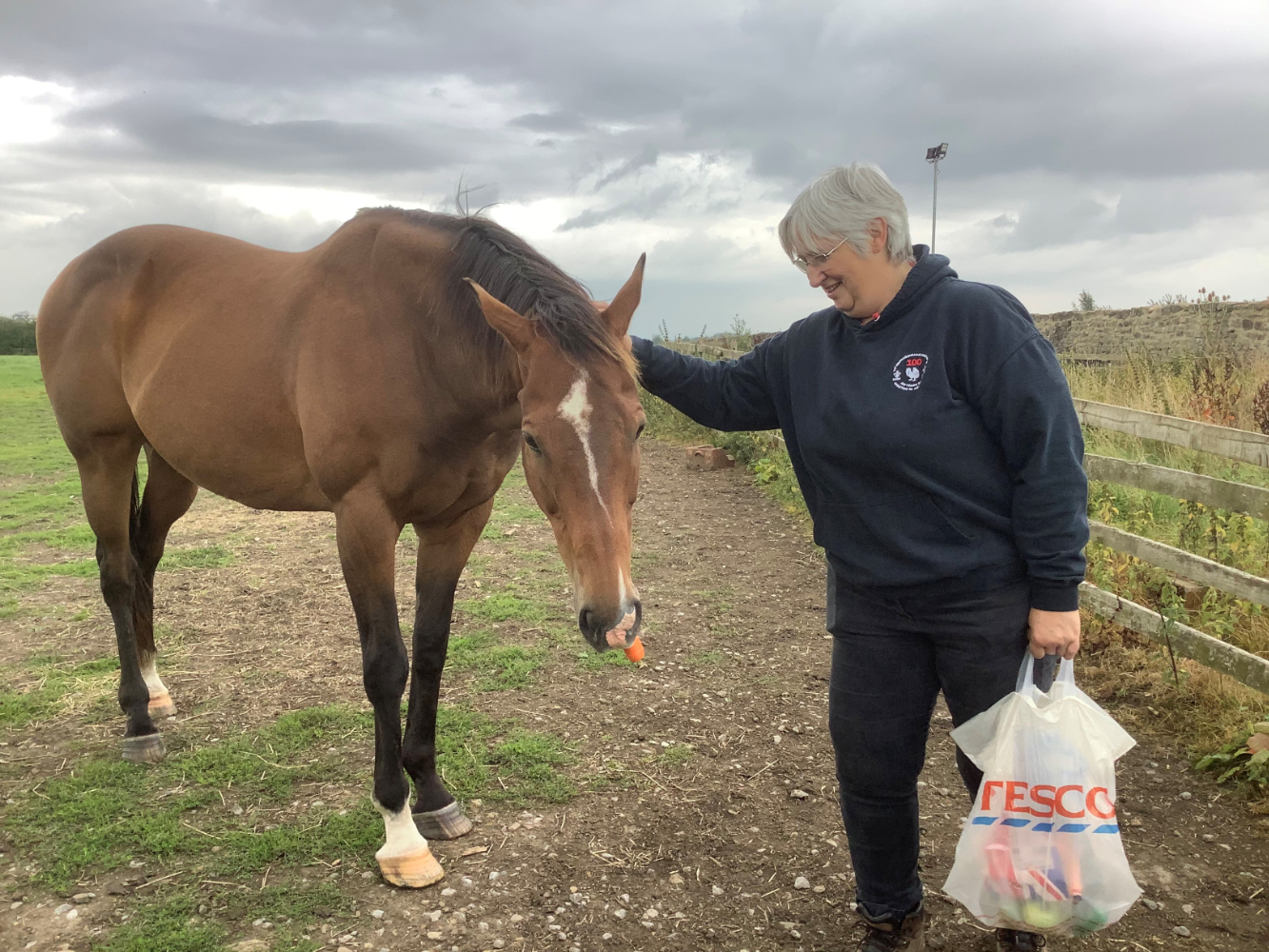 NEWS hot of the press…I've just heard that the telly cameras are coming on Wednesday morning. Tyne Tees TV are doing a preview of the big York Ebor Festival, so they want to interview the Michael human.
Not sure why. They should have worked it out by now that if they want know anything, they should be talking to me.
We've got Dakota Gold and Que Amoro entered in the Group 1 Nunthorpe Stakes on Friday, and Brunch down for the Group 3 Sky Bet and Symphony Group Strensall Stakes on Saturday, so I can see why the telly humans want to come.
But I'll tell you this – if they don't come and film me, there'll be hell to pay.
OF course, my old friend Mecca's Angel won back-to-back Nunthorpe Stakes in 2015 and 2016. What a fantastic bloody filly she was.
Her sire was Dark Angel and it was nice to see another of his progency – Langholm – land a race at Catterick earlier today. OK, Langholm's not in the same class as Mecca's Angel but a winner's a winner.
Langholm runs in the colours of the Dods Racing Club and it's a really canny, cost-effective way of getting involved in racing. If you become a member, you might even get the chance to come and see me! To find out more, go to: www.michaeldodsracing.co.uk/dods-racing-club/
FINALLY, the bit you've all been waiting for – my latest horse joke. Don't bloody groan – I know you love em.
As you know, the young humans have been getting their exam results over the past couple of weeks, so here's a topical one:
Why was the horse really proud of his school test results? Because he got a Hay-plus!
God, I'm funny. All the best,