24-Jan-2021: Latest News from Denton Hall Stables the home of Michael Dods Racing
15-Dec-2020: Whittle le Woods gets up in final furlong to win at Newastle under a Paul Mulrennan drive
07-Nov-2020: Dakota Gold storms to a hat-trick as he wins the listed Wentworth Stakes at Doncaster under Paul Mulrennan
27-Oct-2020: Perfect Sign strikes at Southwell to give Oisin Murphy his 1,000th winner and our first winner for Qatar Racing
27-Oct-2020: Byron's Choice brings up the 40-winner mark for the season, and secures a Catterick double, under Callum Rodriquez
27-Oct-2020: Secret Eagle lands 50-1 surprise in the hands of Phil Dennis at Catterick
23-Oct-2020: Bellatrixsa steps up in distance to land first race under Callum Rodriguez at Newcastle
19-Oct-2020: John Kirkup and Connor Beasley strike at Pontefract
16-Oct-2020: First Greyed strikes at Haydock under Connor Beasley to score for the second time this season
14-Oct-2020: He's done it again - Dakota Gold blitzes them in the Rous Stakes under Connor Beasley
10-Oct-2020: Dakota Gold and Connor Beasley spreadeagle the field to land the Group 3 Bengough Stakes at York
26-Sep-2020: Commanche Falls makes it three for the season by winning at Haydock under Connor Beasley
25-Sep-2020: Billy No Mates comes from last to first to win again at Haydock
21-Sep-2020: Blackrod lives up to debut promise to win impressively at Hamilton under Callum Rodriguez
18-Sep-2020: Aliento and Callum Rodriguez win in good style at Catterick
15-Sep-2020: Twist of Hay makes it a seaside double at Redcar under Connor Beasley
15-Sep-2020: Madreselva gets up in thrilling finish at Redcar under Callum Rodriquez
10-Sep-2020: Commanche Falls runs on well under Connor Beasley to win at Haydock
04-Sep-2020: Billy No Mates wins at Haydock under Connor Beasley at 16-1
01-Sep-2020: Veteran Mustaqbal and Callum Rodriguez make it a double for the stable at Ripon
01-Sep-2020: Challet gets up under Paul Mulrennan to win at Ripon
27-Aug-2020: Dakota Gold and Connor Beasley make all to land the listed Beverley Bullet
27-Aug-2020: Northern Express wins first time out at Beverley under Paul Mulrennan
24-Aug-2020: Inductive strikes again at Ayr under Callum Rodriguez
21-Aug-2020: Que Amoro runs a blinder to push Battaash all the way in the Nunthorpe
20-Jul-2020: 5% shares available in winning three-year-old Gigi's Beach, bought for Denton Hall Racing syndicate
12-Jul-2020: Third win of the weekend as Antico Lady holds on gamely under Paul Mulrennan at Hamilton
11-Jul-2020: Magisterium and Paul Mulrennan get up in dying strides to win at Newcastle
10-Jul-2020: The latest weekend preview - see the news section
14-Jun-2020: Barney's Blog latest - all the gossip through the eyes of Barney McGrew
Racehorse trainer Michael Dods attends most of the thoroughbred yearling and horses in training sales in the UK and Ireland so if you have any specific requirements over and above the horses listed below please feel free to contact Michael for an informal discussion on your individual requirements.
2015 Blackheath: Bay Gelding by Excelebration - Da's Wish
6-Y-O Bay Gelding (Excelebration x Da's Wish)
 A few 10% shares are still available in Blackheath, for more details email dods@michaeldodsracing.co.uk.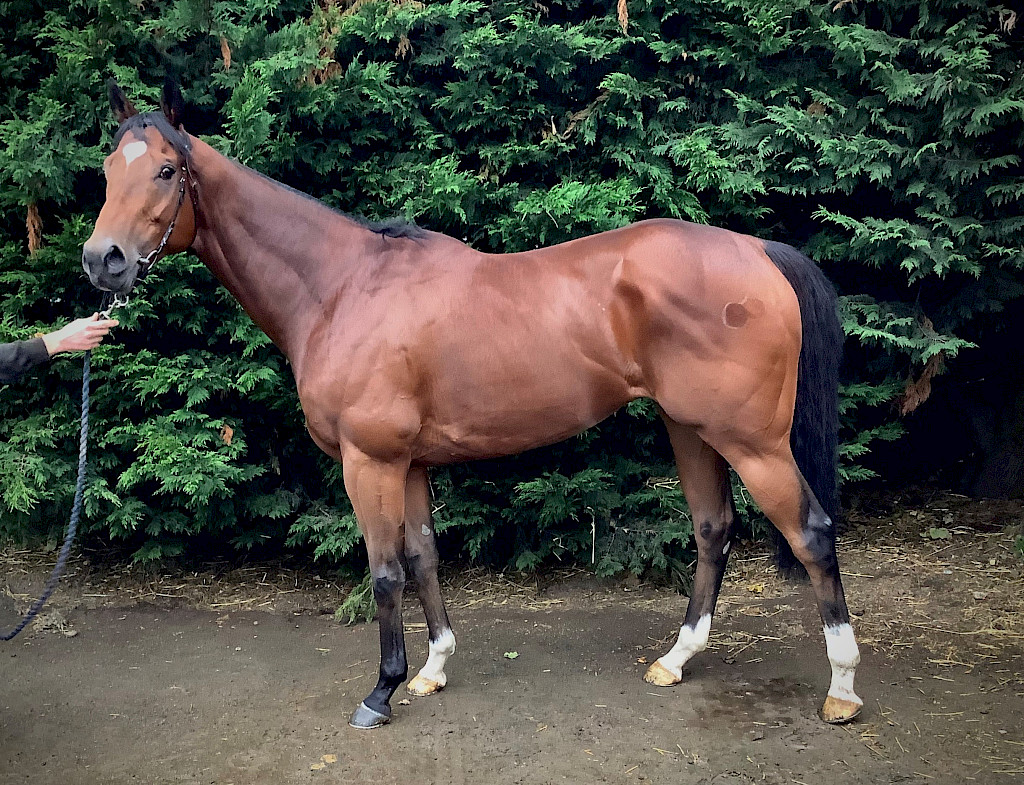 2019 Bay Colt by Dragon Pulse – Queen of Prussia
2-Y-O Bay Colt (Dragon Pulse x Queen of Prussia)
Racey colt who would be a 2/3 yr type. Strong sort
2019 Grey Gelding by El Kabeir – Red Savina
2-Y-O Grey Gelding (El Kabeir x Red Savina)
His dam Red Savina was placed at 2yrs and is a sister to White Bullet a winner at 3 and placed 3 times including Listed Marygate Stakes.  A strong good walking sort with a lot of scope. 50% available
2019 Grey Gelding by El Kabier – Maybe Now Baby
2-Y-O Grey Gelding (El Kabeir x Maybe Now Baby)
Good looking gelding bred to be speedy out of a Kodiac mare. 2/3 yr old sort. 50% available.
SOLD 2016 Woven: Chestnut Gelding by Dutch Art - Regal Silk
5-Y-O Chesnut Gelding (Dutch Art x Regal Silk)
SOLD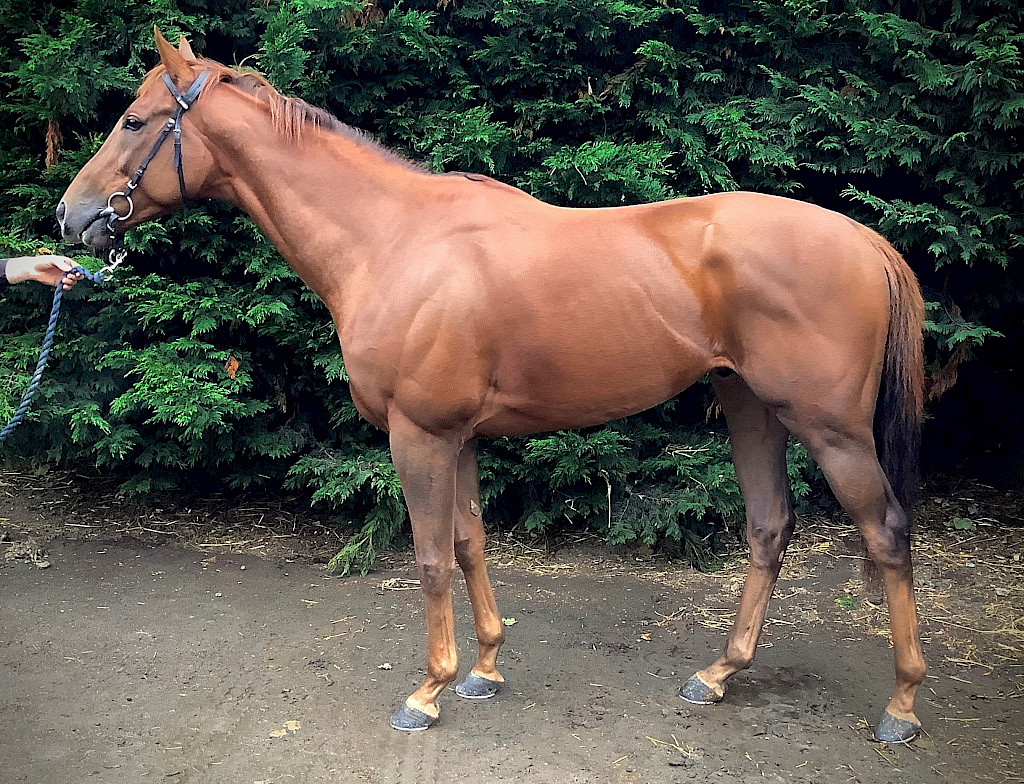 SOLD 2019 Bay Colt by Cotai Glory - Puddles
2-Y-O Bay Colt (Cotai Glory x Puddles)
Strong two-year-old type who looks a runner, should be early. SOLD
SOLD 2019 Bay Colt by Footstepsinthesand – Bayan Kasinga
2-Y-O Bay Colt (Footstepsinthesand x Bayan Kasinga)
2019 Footstepsinthesand  – Bayan Kasirga bay colt
Very good looking colt whose full brother won recently in Ireland first time out for Jessica Harrington.  SOLD
SOLD 2019 Bay Colt by Gutaifan – School Holidays
2-Y-O Bay Colt (Gutaifan x School Holidays)
Dam 5 winners from 5 runners, 100% record.  A strong type 2yr old who will also train to be a 3yr old. Purchased at Goffs Doncaster Sales. SOLD
SOLD 2019 Bay Colt by Vadamos – Strike A Light
2-Y-O Bay Colt (Vadamos x Strike A Light)
2019 Vadamos – Strike A Light bay colt
Gorgeous looking dark bay colt 2nd foal, first foal won 4 out of 4 in Italy including listed race latest start. SOLD
SOLD 2019 Brown Filly by El Kabeir - Sea of Dreams
2-Y-O Brown Filly (El Kabeir x Sea of Dreams)
Very good looking filly with a lovely pedigree.  Really exciting individual. SOLD
SOLD 2019 Chestnut Colt by Bungleinthejungle – Red Red Rose
2-Y-O Chesnut Colt (Bungleinthejungle x Red Red Rose)
Strong sprinter type – related to 4 winners.  Good looking colt.  SOLD    
SOLD 2019 Grey Colt by Elzaam – Sesmen
2-Y-O Grey Colt (Elzaam x Sesmen)
2019 Elzaam – Sesmen Grey Colt
Strong looking sprint type colt related to 5 winners.  Speedy sort. SOLD.