07-Jul-2022: Latest News from Denton Hall Stables the home of Michael Dods Racing
05-Jul-2022: Wor Willie strides to easy success under Paul Mulrennan at Pontefract
01-Jul-2022: Second career win for Alethiometer under Connor Beasley at Doncaster
21-Jun-2022: Proud Archi makes it five course and distance wins at Beverley
10-Jun-2022: York double for the yard as Northern Express defies topweight under Paul Mulrennan
10-Jun-2022: Gale Force Maya makes it her 10th career win at York
09-Jun-2022: Arch Moon bounces back to form with easy win under Connor Beasley at Haydock
08-Jun-2022: Azure Blue impresses under Paul Mulrennan at Hamilton
There's only one Barney McGrew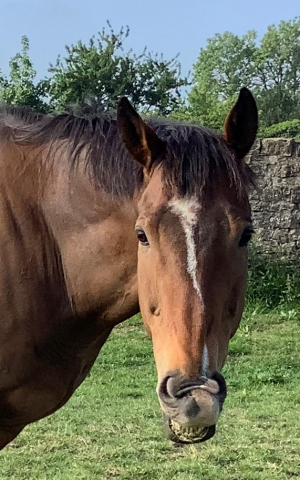 Evening all,
Big thanks to a helpful human, called Trevor Bowerbank, who got in touch on email to pose the following question: "Can you ask Barney if he's doing a bit of moonlighting? I see he won at Kenilworth last night and he hasn't mentioned this in his blog."
I'm very grateful to Trevor for bringing this serious matter to my attention. No, I haven't been moonlighting, Trevor. The alarming truth is that there's a bloody imposter daring to race under the name of Barney McGrew.
He's a three-year-old colt racing in Cape Town, South Africa, and he's run twice so far. He was fourth first time out and then won the Kenilworth Racecourse Maiden Plate at 8-1 last week.
That's all very well but the point is this: the only Barney McGrew that matters is the original – and that's me.
Obviously, I'll be consulting my lawyers but I'm not sure you can do much about this kind of thing. Ask Robbie Williams – there are loads of tribute acts doing the clubs, pretending to be him, including a fatter version called Blobbie Williams.
Tell me this – would you rather see the real Robbie Williams or Blobbie Williams? There's no contest, is there. Would you rather see Take That or Fake That? The Rolling Stones or The Rolling Clones? The Red Hot Chilli Peppers or the Geordie version, The Reet Hot Chilli Peppers? Believe it or not, these are all real tribute acts.
More importantly, would you rather suck a Werther's Original or a Werther's Artificial?
Anyway, the South African Barney McGrew has a long way to go before he's a legend like me with his own blog. In the meantime, my advice is to beware of cheap imitations…
MEANWHILE, I was very pleased to see John Kirkup win in the mud up at Ayr during the week (see picture below).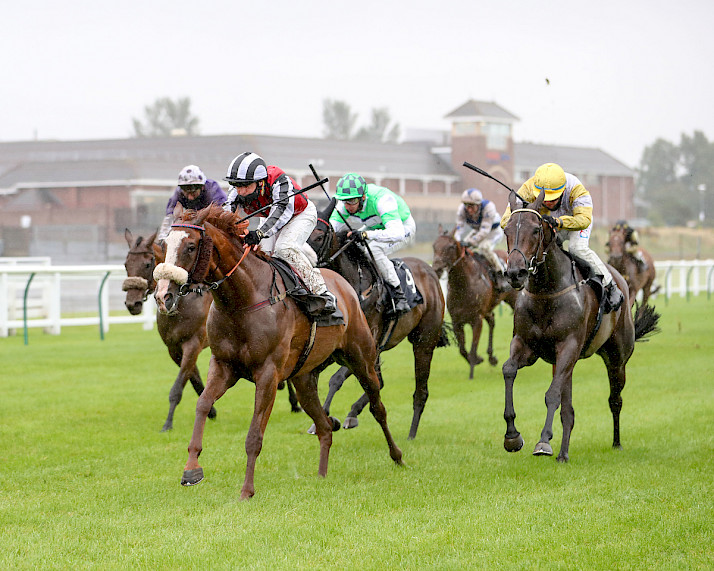 Horses like different types of going and he likes to get his toe in. I like the mud too – but, for me, the pleasure is rolling in it and getting all mucky so the Carole human has to give me a nice wash.
John Kirkup's a decent enough lad, owned by very nice humans – Suzanne and Kevin Kirkup. If you need your back looking at, Kevin's your man. He's what's known as an osteopath so his horses in the past have included my old mates Osteopathic Remedy and The Osteopath.
What a good horse Osteopathic Remedy was – he won the Ripon Rowells an incredible four times, as well as the Thirsk Hunt Cup, and Carlisle Bell.
As for John Kirkup, – and you can always spot him on the gallops because of his big white blaze.
That made me think that you might find it interesting to see what horses' different facial markings are called. Here's a graphic that might help.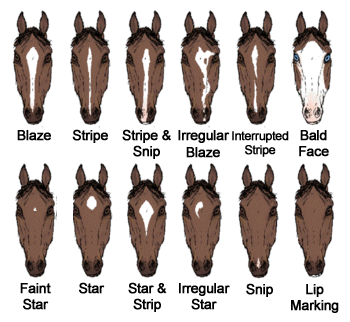 As you can see, I've got what's called an 'interrupted stripe'. Nothing against John Kirkup but, in my humble option, it's more subtle and attractive than a big flashy blaze. It's also more distinctive than a measly little star, or nothing at all.
Then again, I was born lucky because I'm just bloody gorgeous in every respect.
Take care of yourselves until next week, lots of love as always