07-Jul-2022: Latest News from Denton Hall Stables the home of Michael Dods Racing
05-Jul-2022: Wor Willie strides to easy success under Paul Mulrennan at Pontefract
01-Jul-2022: Second career win for Alethiometer under Connor Beasley at Doncaster
21-Jun-2022: Proud Archi makes it five course and distance wins at Beverley
10-Jun-2022: York double for the yard as Northern Express defies topweight under Paul Mulrennan
10-Jun-2022: Gale Force Maya makes it her 10th career win at York
09-Jun-2022: Arch Moon bounces back to form with easy win under Connor Beasley at Haydock
08-Jun-2022: Azure Blue impresses under Paul Mulrennan at Hamilton
Congrats to Commanche Falls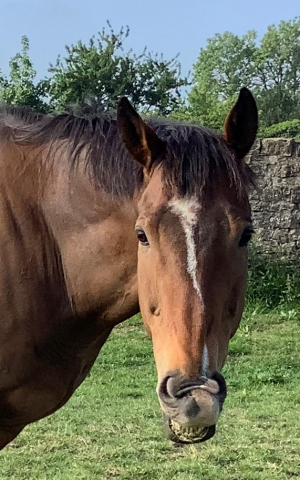 MORNING all, Barney McGrew here.
I couldn't let the weekend pass without saying a big congratulations to my pal Commanche Falls on his epic win in the Unibet Stewards' Cup at Glorious Goodwood yesterday.
Commy – as I like to call him – is a lovely fella and getting better and better on the racetrack. And what a race the Connor human rode on him. Bloody fantastic! I reckon the gaffer is right – he's riding better than ever and always very polite when he passes my box.
Anyway, back to Commy. As you probably know, he's in the same ownership as my old mate Dakota Gold – three humans called Doug Graham, Ian Davison and Alan Drysdale.
Commy and Goldy are also half-brothers because their mother is Joyeaux, who won six times in her career. She was trained by a human called Lee James before moving to Ollie Pears.
Commy's dad was Lethal Force. He was a right good horse, trained by Clive Cox, and the winner of the Group 1 July Cup at Newmarket in 2013.
The Stewards' Cup is not only one of the most competitive handicaps of the year, it's also very historic. It goes back to the 1830s when the senior steward at Goodwood was allowed to present an annual cup to the winner of any race he fancied. It went on to become a race in its own right in 1840 and well-known winners include the likes of Lochsong (1992), Soba (1982) and BorderleScott (2006).
I hear the Gaffer is targeting the Ayr Gold Cup now for Commy and he's got to have a big chance. He's improving all the time and he's one of those horses that likes a big field. He was telling me the other day that he much prefers it when there's a lot of horses to run with. He's not so keen when there's only a few runners like at Thirsk when he got beat.
As you may know, I very nearly won The Ayr Gold Cup in 2009 but got beat a head by a horse called Jimmy Styles, ironically trained by Clive Cox. I was ridden by the Tom Eaves human that day and we were unlucky because I clipped the heels of a horse in front and nearly came down. It was a bloody miracle I got as close as I did.
What made it all the more annoying was that Jimmy Styles was ridden by that Frankie human and he did one of his flying dismounts. It got right up my nose – I felt like biting his arse to teach the cocky bugger a lesson.
Anyway, that's all history. With a bit of luck, Commanche Falls can put it right at Ayr in September. Naturally, I'll be taking him to one side in the field and giving him the benefit of my wisdom and experience.
Well done, Commy – we're all dead proud of you.
FINALLY, another one of my horsey jokes because I know how much you like them...
Why didn't Dracula have a bet on Commanche Falls in the Stewards' Cup?
Because the stakes were too high!
God, I'm bloody funny.