07-Jul-2022: Latest News from Denton Hall Stables the home of Michael Dods Racing
05-Jul-2022: Wor Willie strides to easy success under Paul Mulrennan at Pontefract
01-Jul-2022: Second career win for Alethiometer under Connor Beasley at Doncaster
21-Jun-2022: Proud Archi makes it five course and distance wins at Beverley
10-Jun-2022: York double for the yard as Northern Express defies topweight under Paul Mulrennan
10-Jun-2022: Gale Force Maya makes it her 10th career win at York
09-Jun-2022: Arch Moon bounces back to form with easy win under Connor Beasley at Haydock
08-Jun-2022: Azure Blue impresses under Paul Mulrennan at Hamilton
Derby Day memories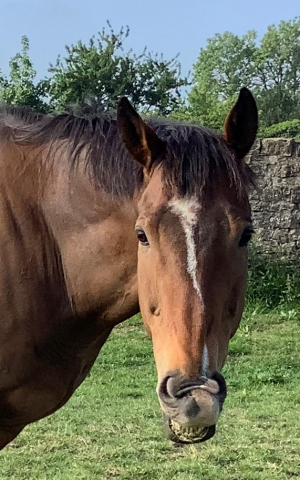 Evening all,
Did you watch The Derby today? What a bloomin' turn up for the books that was!
Who'd have thought Serpentine would lead them a merry dance like that? He just kept on going and, before the humans realised what was happening, the bird had flown.
Remember the name because it'll be a quiz question in years to come: who won the lockdown Derby?
Well done to the Aidan O'Brien human – that's a record-breaking eight Epsom Derby victories for him. I'm pleased for Galileo too – he's now sired five winners of the great race. And big congratulations to winning jockey Emmet McNamara.
It was also nice to see Galileo's daughter, Love, win The Oaks a bit earlier. Another triumph for the O'Brien team over in Ireland, and she looks a smasher. Nice name too. We all need a bit of Love in our lives.
Anyway, it all brought back some fond memories of my grandad, Shirley Heights, winning the Derby in 1978 in a driving finish from Hawaiian Sound. He was trained by John Dunlop and what a ride old Greville Starkey gave him.
Here you go, have a look back. You'd never think he was going to win coming down the home straight, would you? https://www.youtube.com/watch?v=zqNuk3nxCao
And then, of course, my great-grandad, the immortal Mill Reef, won the Derby in 1971. A human called Geoff Lewis rode him and he won well from a horse called Linden Tree. Here's how the race panned out. https://www.youtube.com/watch?v=SIUEdoQfs6M
Yes, Mill Reef will always be remembered as one of the all-time greats.
Obviously, I wasn't born back then but the family has always been proud of what they achieved, and I've been hearing stories about them since I was a foal. I might ask the Carole human if I can have some photos of them in my stable. She'd do anything for me. Got her wrapped round my hoof.
Talking of great horses, I'm looking forward to seeing Enable run in the Coral Eclipse at Sandown tomorrow. You've got to make the most of these legends while they're still running, and she's a superstar.
Oh, and I mustn't forget my old friend, Dakota Gold, who's also running down at Sandown tomorrow. The horses have been doing the yard proud lately, with First Greyed and Royal Context winning last week, so here's hoping Dakota can get back to winning ways and keep a smile on the Michael human's face.
He's the gaffer, he buys our grub, and if he's happy, we're all happy.
Take care everyone, lots of love and kisses.