07-Jul-2022: Latest News from Denton Hall Stables the home of Michael Dods Racing
05-Jul-2022: Wor Willie strides to easy success under Paul Mulrennan at Pontefract
01-Jul-2022: Second career win for Alethiometer under Connor Beasley at Doncaster
21-Jun-2022: Proud Archi makes it five course and distance wins at Beverley
10-Jun-2022: York double for the yard as Northern Express defies topweight under Paul Mulrennan
10-Jun-2022: Gale Force Maya makes it her 10th career win at York
09-Jun-2022: Arch Moon bounces back to form with easy win under Connor Beasley at Haydock
08-Jun-2022: Azure Blue impresses under Paul Mulrennan at Hamilton
History in the making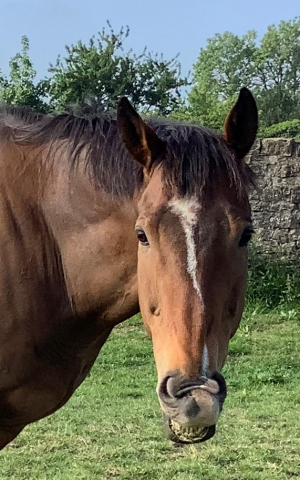 Morning everyone,
Well, it's been quite a week since my last blog.
Enable won her third King George in impressive style, but it was disappointing to see just three runners turn out for such a prestigious race. They should have given me a call to make it a bit more interesting.
Stradivarius made history by winning a fourth Goodwood Cup over two miles. That's too far for me, even when I was in my prime. I'd need to travel in the horsebox if I was going that far. And who'd want to be named after a posh fiddle? How pretentious.
Oh, and what about that Battaash? He's the Usain Bolt of the horse world. Did you see his time in the King George Qatar Stakes at Glorious Goodwood? Phenomenal. I overhead that Kenny Williams human describing him as being like "sh*t off a shovel". How terribly coarse. Suffice to say Battaash is a machine and will take all the beating in the Nunthorpe.
All in all, we've witnessed history being made in the past week or so. If you think about it, we've seen one of the greatest mares of all times, one of the best stayers, and one of the finest sprinters. Mind you, none of them have got their own blog, have they?
…I was pleased to see that Challet win at Thirsk for our stable the other night. He's a nice three-year-old – always gives me a friendly nod on the way to the gallops. As far as I know, he's owned by a human called Ian who sells spuds. Each to his own, I suppose.
By the way, Challet was another winner for that Paul Mulrennan human. They say he's had 21 winners in July. Bloody nice fella – I'm chuffed for him (chuck us a carrot next time you're passing, Paul).
…On other matters, did you see there was a horse and jockey lining up in the Scarecrow Festival up the road at Hurworth the other day?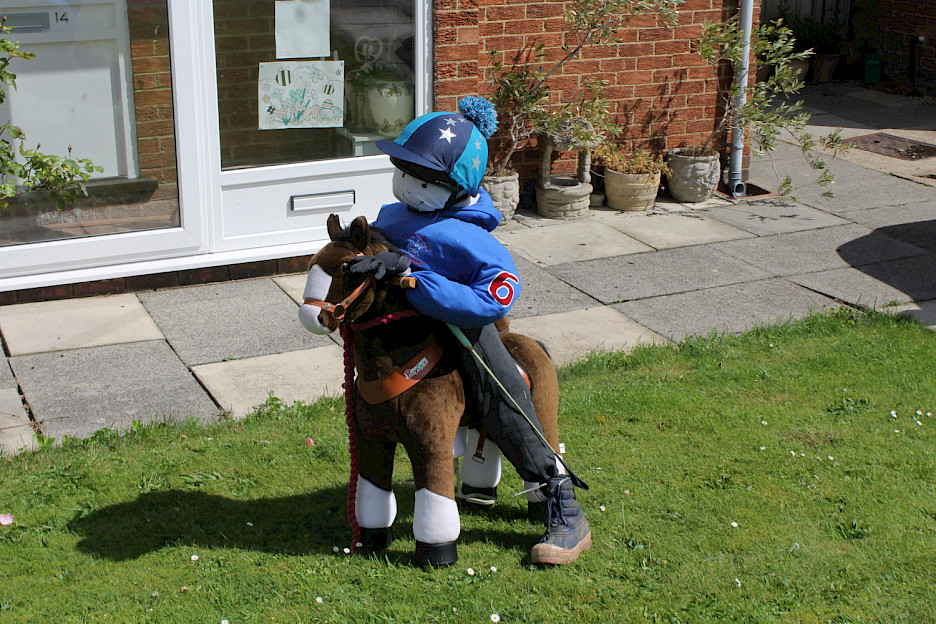 There was a rumour it was modelled on one of our jockeys – Paul Mulrennan, Connor Beasley, Callum Rodriguez or Andrew Mullen. It was put to the vote on social media and Andrew Mullen was the most popular choice. I can see the likeness.
Mind you, I've got a bone to pick with a human called Beverley Lowson. She came on Facebook and suggested it looked like ME being ridden by the Carole Dods human. Bloody cheek! I'm a celebrity who won nine races, not a stuffed toy.
Anyway, that's all for another week, folks. Have a good week and, most importantly, stay nice and safe.
Lots of love as always,