07-Jul-2022: Latest News from Denton Hall Stables the home of Michael Dods Racing
05-Jul-2022: Wor Willie strides to easy success under Paul Mulrennan at Pontefract
01-Jul-2022: Second career win for Alethiometer under Connor Beasley at Doncaster
21-Jun-2022: Proud Archi makes it five course and distance wins at Beverley
10-Jun-2022: York double for the yard as Northern Express defies topweight under Paul Mulrennan
10-Jun-2022: Gale Force Maya makes it her 10th career win at York
09-Jun-2022: Arch Moon bounces back to form with easy win under Connor Beasley at Haydock
08-Jun-2022: Azure Blue impresses under Paul Mulrennan at Hamilton
The Grand National? It's a piece of cake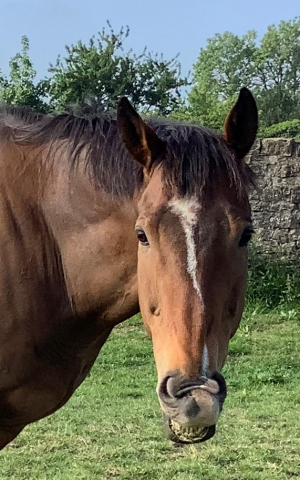 Evening all,
Barney here again. It's the Grand National at the weekend so I thought I'd better show my face and let you know what's going to win.
But before I do that, there are a couple of congratulations in order. Firstly, well done to the young Aidan Redpath human on his first ever win. From what I hear, he rode a good race on Havagomecca. She's a canny lass and I always thought she'd win a race or two. It was also nice to see that David Metcalfe human have another winner. He owned Mecca's Angel, winner of back-to-back Nunthorpe Stakes, and one of the fastest sprinters we've ever seen in these parts.
My only gripe with it all was the fact that the Paige human bought the Aidan human a nice-looking cake. I'm not being funny, but I won hundreds of races and she never bought me a cake. Don't get me wrong, I'm pleased for the lad, but he's only had one bloody winner and he gets a cake out of it. What's the world coming to?
ANYWAY, enough of that, well done also to my old mate Danielsflyer – or Danny as I like to call him – for winning at Redcar. He's a bugger, isn't he? Doesn't win for four years and then goes and wins two in a row. He was telling me over the fence how much he likes the Connor human riding him. Sometimes, that's all it takes – finding the right human for the right horse. It's like me and my Carole – I'd win the Grand National with her on my back.
TALKING of the Grand National, I hope you're going to be having a bet. I've got my own account so I'll be having a tenner to win on my confident selection. I've gone through the form and there's no doubt that Cloth Cap looks thrown in at the weights. He's bang in form and will get the good ground he likes, so he's a worthy favourite. But who's going to back him at 4-1? Bloody madness in a race like that. It's 4-1 getting round all those fences, let alone winning. Apart from that, I'm not convinced about the name - cloth caps are a bit common, don't you think?
I was tempted by Definitely Red because I'm partial to a glass of Merlot but I think he's getting a bit long in the tooth. Then I was going to go for The Storyteller 1) because he comes from Ireland, like me and 2) because his name reminds me of an old stablemate of mine, Storyteller. Remember him? He's in the Denton Hall of fame for winning the Tote Placepot Handicap at Beverley in 2002, under Dale Gibson. He was a right good servant to the yard was Storyteller so my Grand National tenner was going on his namesake - a dual Grade One winner over the jumps, who rarely runs a bad race, and is the perfect age at 10.
Then, the disappointing news came in on Thursday that The Storyteller's a non-runner in the National, so I've plumped instead for another Irish horse, Any Second Now. That's because I always know that my Carole will be along to my stable with a few juicy carrots "any second now".
So, there you go, it's an omen. If anyone backs him and he wins, don't forget it was me who told you – and send Polos and carrots.
Good luck everyone, lots of love, Barney