07-Jul-2022: Latest News from Denton Hall Stables the home of Michael Dods Racing
05-Jul-2022: Wor Willie strides to easy success under Paul Mulrennan at Pontefract
01-Jul-2022: Second career win for Alethiometer under Connor Beasley at Doncaster
21-Jun-2022: Proud Archi makes it five course and distance wins at Beverley
10-Jun-2022: York double for the yard as Northern Express defies topweight under Paul Mulrennan
10-Jun-2022: Gale Force Maya makes it her 10th career win at York
09-Jun-2022: Arch Moon bounces back to form with easy win under Connor Beasley at Haydock
08-Jun-2022: Azure Blue impresses under Paul Mulrennan at Hamilton
Howzat for the latest news!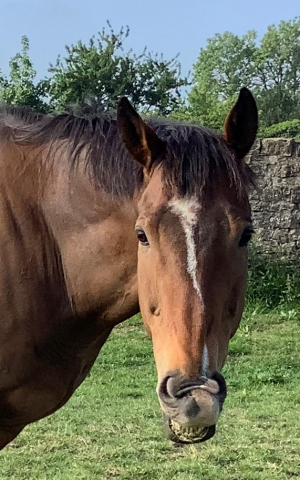 Evening all,
Barney McGrew here again. Forget Frankel, Red Rum, Shergar, and Champion the Bloody Wonder Horse, I'm the star round here.
Well, what a bloody day, eh? A double with the young 'un Zuffolo and Wor Willie at Thirsk, both ridden by the Paul Mulrennan human, and a big win for my old mate Blackrod, under the Connor Beasley human, at Newmarket. Fantastic. No wonder The Gaffer's been walking round with a smile on his face.
The horses are running out of their skins - I'm so proud of them. The week started last Monday with Emeralds Pride and Langholm both winning with the Connor human in the saddle.
It was a first win for Emeralds Pride. She's a nice three-year-old filly by Pride of Dubai out of Emeralds Spirit so it doesn't take a brain surgeon to work out how she got her name.
You might not have heard of Pride of Dubai but he was a Group 1 winning two-year-old in a far-off place called Australia. Emeralds Spirit was trained by a human called John Weymes and won four times. Her dad was Rock of Gibraltar, a brilliant horse trained by that Aidan O'Brien human, and part-owned by that Sir Alex Ferguson human. Mind you, Manchester United are bloody rubbish now, aren't they?
As for Langholm, he's done us proud, and was winning for the fifth time. His dad's Dark Angel, the sire of my old friend Mecca's Angel.
Oh, and by the way, Langholm runs in the colours of the Dods Racing Club, which is a great way for humans to get into racing. If you want to know more about it, look here www.michaeldodsracing.co.uk/dods-racing-club/. There are lots of benefits and, if you join, I'll send you a signed photo.
WE nearly had another double at Musselburgh a few nights later. It was nice to see Aquamas (below) break her maiden at the 14th attempt. Then, Fleetwood Pier finished first later in the card but lost the race in the stewards' room. Thought that was a bit harsh myself. I should be a steward – I know more than any of them!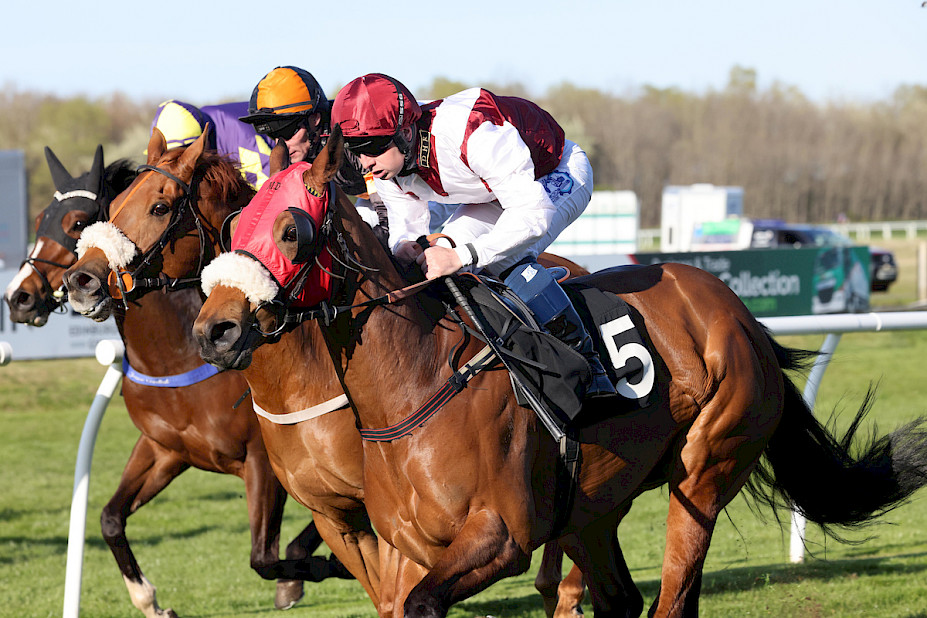 By the way, does anyone know why a horse that's never won a race is called a maiden? Well, I like to be educational in this blog, and I can tell you that it comes from the Germanic word maegden, meaning virgin. That's then become synonymous with things that are happening for the first time, such as 'maiden voyage'. You can thank me if it comes up in a pub quiz.
STILL talking about the Connor human, can anyone tell me the name of his first winner when he joined our stable as an apprentice?
Well, it was my old mate Osteopathic Remedy, owned by the Kevin Kirkup human who happens to be very good with sorting any aches and pains you might have. That first win came in the 2012 Dumfries House Ayrshire Handicap and the trophy was presented by the Prince of Wales. He's a very posh human, speaks a bit funny, talks to trees, and sometimes wears a checked skirt when he's up in Scotland. Very strange.
FUNNILY enough, I had a nice chat with the Connor human the other day. He was telling me how a few years back, when he was just starting out, he'd ridden the worst horse in the yard at Catterick and it had come last.
"Couldn't you have gone any faster?" groaned the owner after the race.
"Probably," replied Connor, "but the rules state that you have to stay on the horse!"
NOW, as you know, I'm quite the celebrity round these parts and I get asked to do all sorts – open country fairs, appear at church fetes, speak at charity events, and donate cuttings from my mane and tail.
Anyway, I got a visit the other day from a human who turned out to be chairman of Barnard Castle Cricket Club, asking if I fancied opening the batting in a game against Bishop Auckland.
It was a strange request for a horse but I turned up on Sunday morning and walked out to the middle of the pitch with the team captain. The bowler came down the wicket and tried what the humans call a bouncer, but I just turned my back, bucked, and hoofed the ball over the boundary. The same thing happened with the second, third, fourth, fifth and sixth balls of the over – I hit a six every time.
Then it was the captain's turn, and he only managed a measly single from his first ball. "RUN!" he shouted – but I just stood there, and he got stumped.
"Why the hell didn't you run, for Christ's sake?" he cried.
"Look mate," I told him. "If I could run, I'd be at the races instead of playing bloody cricket."
FINALLY, well done to the nice Leanne Bostock human who deservedly won the best turned out prize at Redcar last Thursday for Global Context.
I couldn't help noticing that she somehow got called Hayley-Ann when her prize was announced on our Facebook and Twitter, as well as Redcar's social media.
I've told the Gaffer to sack that handsome human who's our media manager. You know who I mean. Used to be editor of The Northern Echo, getting long in the tooth – Paul Barrow.
Anyway folks, I can't be arsed spending any more time writing this stuff. Til the next time – lots of love,