07-Jul-2022: Latest News from Denton Hall Stables the home of Michael Dods Racing
05-Jul-2022: Wor Willie strides to easy success under Paul Mulrennan at Pontefract
01-Jul-2022: Second career win for Alethiometer under Connor Beasley at Doncaster
21-Jun-2022: Proud Archi makes it five course and distance wins at Beverley
10-Jun-2022: York double for the yard as Northern Express defies topweight under Paul Mulrennan
10-Jun-2022: Gale Force Maya makes it her 10th career win at York
09-Jun-2022: Arch Moon bounces back to form with easy win under Connor Beasley at Haydock
08-Jun-2022: Azure Blue impresses under Paul Mulrennan at Hamilton
I'm back - and snowbody does it better!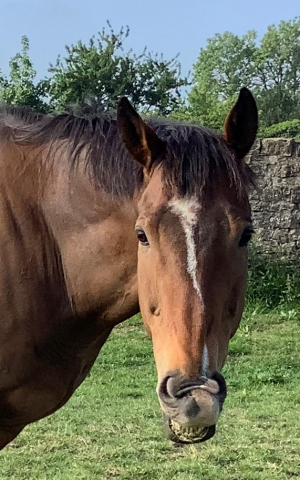 Hello everyone,
Barney McGrew here. I've had a few months off from the blog, but I know how much you've all missed me, so I thought I'd get going again.
I woke up the other day and, when I looked outside, there was all this white stuff coming out of the sky. The Carole human reminded me it's something called snow, then let me out in the field saying I should "go and have some fun in it".
Well, I had a little roll in it, and a kick and a buck, but it's a bit overrated if you ask me. It's just cold and wet – where's the bloody fun in that?
You see all these daft humans sliding down hills on bits of plastic, and then dragging them back up to the top again. They do it over and over and over again. The grown-ups are as bad as the young uns. It's just further proof that humans are stupid creatures.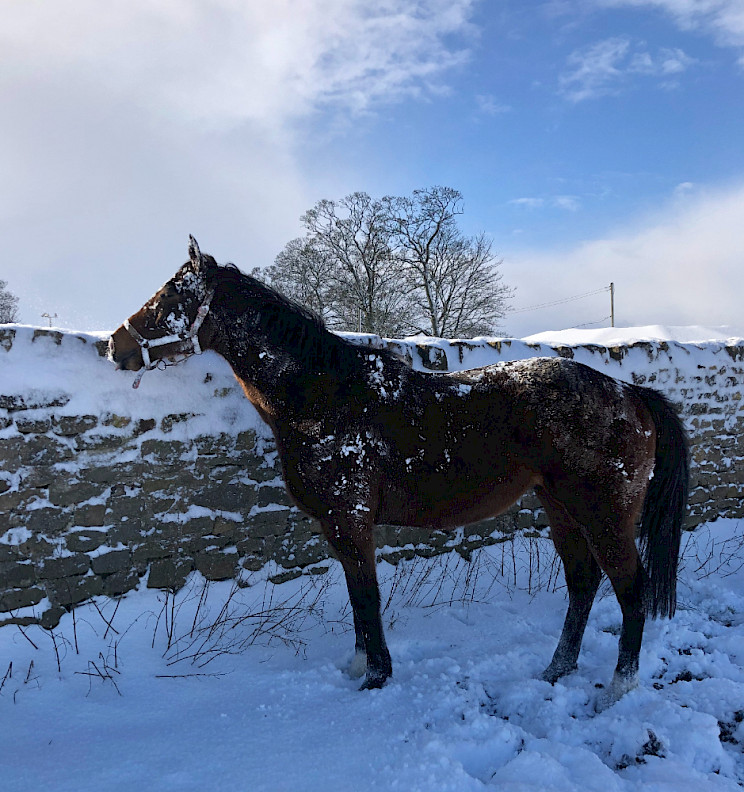 HAVING said all that, I do want to give a bit of credit to the humans who work in the yard and ride out on the horses.
They've been going up the gallops in all kinds of weather, including blizzards, over the past week. Bloody freezing it was, and I know the gaffer – the Michael human – was full of praise for the way they just got on with it. Well done to all of them because it's not a job for the faint-hearted.
Mind you, I've noticed the Carole human doesn't ride out anymore. She's not daft, my Carole.
WATCH THE BRRRRRRRRREEZE-UPS ON THE GALLOPS HERE
ANOTHER shout-out – this time to all the humans who work as ground staff around the country. They're also having to work in pretty tough conditions to keep the tracks in good condition. They really are unsung heroes of the racing industry, so thanks to them too.
IT'S been really nice seeing my old mates coming back into the yard after their winter break, and I've been having a laugh with some of them by changing their names to fit in with the weather.
We've now got Chilly Snow Mates, Dakota Cold, Cold Territories, and Havasnowmecca. God, I'm funny.
I'VE also been getting acquainted with the new ones that are just starting out. They're like little kids going to school for the first time – all giggly and nervous.
Obviously, they're all in awe of me because I'm the first superstar they've ever met. I heard one of them look over at my field the other day and tell one of the others: "Look, there's Barney McGrew!"
One or two have asked for autographs but I can't be arsed.
I CAN'T let my first blog of 2021 pass without sending my congratulations to my dear old friend Mabs Cross who has given birth to her first foal - a lovely filly by Zoustar. What a beauty! Altogether now - aaah! (She always fancied me but I couldn't help her out in that department, so I suppose I should offer my congratulations to Zoustar too).
FINALLY, a little quiz for you. All the answers have something to do with winter, and don't go cheating by searching the internet.
Name the ice-cold Epsom Derby winner ridden by Brian Taylor.
Name the frozen Oaks winner, trained by Ed Dunlop.
Name the shivering Henry Cecil-trained filly given The Oaks after the disqualification of Aliysa.
Which Derby winner delivered under Scobie Breasley in 1964?
Which chilly jockey won the 1989 Grand National on Little Polveir?
Answers in the next blog.
Anyway folks, that's all for now. Keep smiling, keep wrapped up warm, and stay safe. Lots of love