07-Jul-2022: Latest News from Denton Hall Stables the home of Michael Dods Racing
05-Jul-2022: Wor Willie strides to easy success under Paul Mulrennan at Pontefract
01-Jul-2022: Second career win for Alethiometer under Connor Beasley at Doncaster
21-Jun-2022: Proud Archi makes it five course and distance wins at Beverley
10-Jun-2022: York double for the yard as Northern Express defies topweight under Paul Mulrennan
10-Jun-2022: Gale Force Maya makes it her 10th career win at York
09-Jun-2022: Arch Moon bounces back to form with easy win under Connor Beasley at Haydock
08-Jun-2022: Azure Blue impresses under Paul Mulrennan at Hamilton
Mum's the word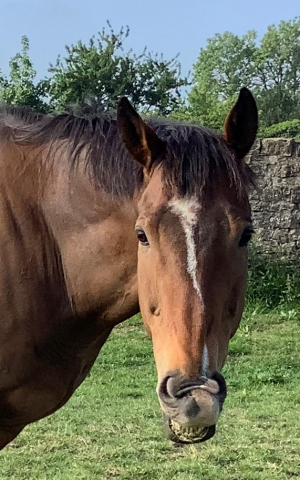 EVENING all, Barney McGrew here again – equine megastar and blogger extraordinaire.
What with it being The Grand National tomorrow, I thought I should give you the benefit of my vast knowledge and experience.
I'm not a big fan of the jumps – it always seems like too much bloody effort to me – but the National is a bit special and I always look for a fairytale winner.
This year, the selection has to be Snow Leopardess because she's got a great backstory as well as a family connection to yours truly.
Let me explain…Back in 2017, she got injured and, rather than just recuperating in her box, they decided she should become a mum. She was sent to Derby winner, Sir Percy, and gave birth to a foal.
Now, as you may know from previous brilliant instalments of Barney's Blog, Sir Percy is my half-brother. We both have the same dad – Mark of Esteem – so that's where the family connection comes in. A bit tenuous, I know, but what do you expect from a blogging horse, for Christ's sake?
Anyway, Snow Leopardess would make history as the first mum to win The Grand National. The fact that she's white – like Dessie – makes her even more appealing.
Other National runners to catch my eye include Fiddlerontheroof because I love a good musical. Mind you, whenever I go to the theatre, I insist on being in the stalls.
The other one to catch my eye is last year's third Any Second Now because I'm always thinking to myself: "Any Second Now, Carole's gonna come in with a bag of carrots."
STAYING on the rather delicate subject of breeding, I overheard a funny conversation between a couple of our owners the other day.
They'll have to remain anonymous but one of them was moaning about a mare he'd bought for quite a lot of money: "Whenever a stallion starts to show the slightest bit of interest in her, she just turns the other away," he said.
The other fella rubbed his chin and asked: "Did you get her from Barnard Castle by any chance?"
"No, why?" wondered the first chap.
"Oh, it's just that the wife's from Barnard Castle," came the reply.
BY the way, did you know an estimated £300m will be gambled on The Grand National alone. Unbelievable!
Anyway, it reminds me of the fella who walked into a butcher's shop and said to the fella behind the counter: "I bet you £500 you can't get that meat down from the top shelf without a ladder."
"I can't," replied the butcher. "The steaks are too high."
God, I'm bloody funny.
ON a more serious note, I can't let the week pass without saying congratulations to Chiellini for winning on his debut at Pontefract when he was ridden by that nice Connor human.
Chiellini, below, is a half-brother to my old friend Que Amoro and The Gaffer reckons there's a lot more to come from him.
Those of you who read this blog regularly might have noticed that when I wished him luck last week, I included a picture of him working on the gallops with my mate Brunch (see below).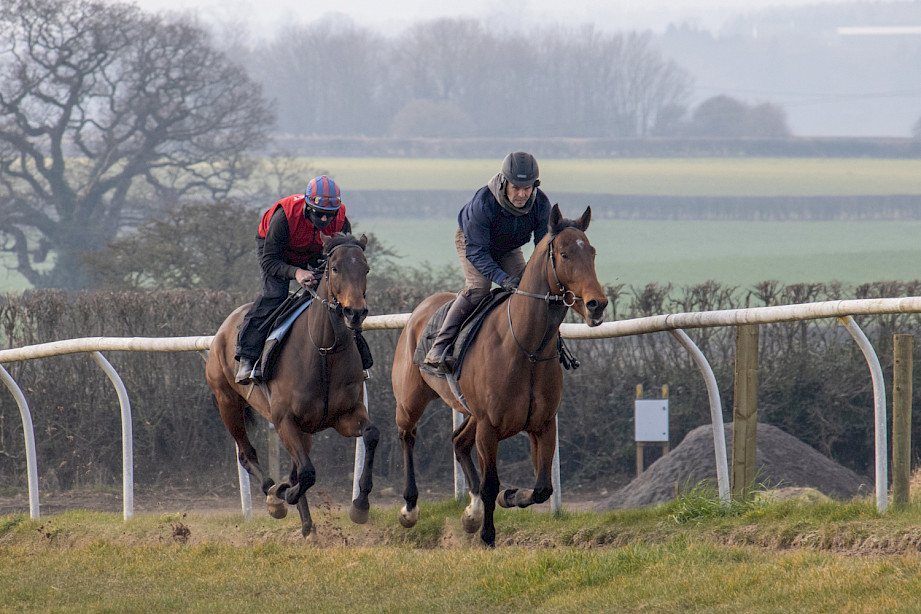 Given that Brunchy's one of the best horses in the stable, that should have given you an inkling that Chiellini was no slouch.
Try and pay more attention in future, eh?
Anyway, hope you back the winner of the big 'un tomorrow. If you do, send carrots. Even if you don't, sent them anyway. Lots of love and kisses.