07-Jul-2022: Latest News from Denton Hall Stables the home of Michael Dods Racing
05-Jul-2022: Wor Willie strides to easy success under Paul Mulrennan at Pontefract
01-Jul-2022: Second career win for Alethiometer under Connor Beasley at Doncaster
21-Jun-2022: Proud Archi makes it five course and distance wins at Beverley
10-Jun-2022: York double for the yard as Northern Express defies topweight under Paul Mulrennan
10-Jun-2022: Gale Force Maya makes it her 10th career win at York
09-Jun-2022: Arch Moon bounces back to form with easy win under Connor Beasley at Haydock
08-Jun-2022: Azure Blue impresses under Paul Mulrennan at Hamilton
Golden oldie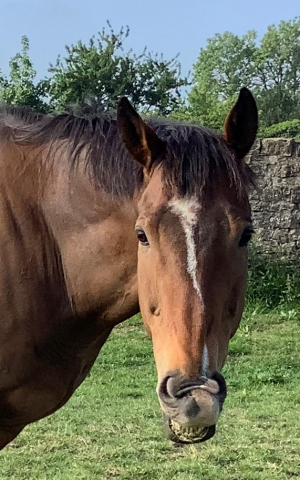 EVENING all, Barney McGrew here again – not that I need any introduction because I'm a bloody living legend.
Let's start this week with a bit of Spandau Ballet. I've recorded a new version of one of their biggest hits. All together now...
DA-KO-TA GOLD, Always believe in your soul, You've got the power to know, You're indestructible, ALWAYS WITH BEASLEY, DA-KO-TA GOLD!
What a performance by my old mate Dakota Gold at York on Wednesday! Loads of people were writing him off now he's an eight-year-old, but I knew he still had it in him - and so did the Connor human in the saddle.
That's six wins at York for Goldy (as I like to call him) and that makes him the track's joint record-holder alongside Copper Knight (or Knighty as I like to call him) who's trained by the Tim Easterby human.
I had a word with that nice William Derby human, who runs York, and asked him to sort out a plaque. Hey presto, it was up in no time.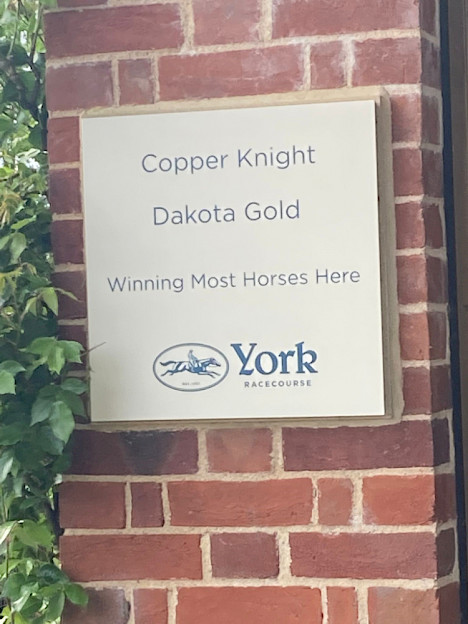 Goldy's won 14 times in his career now and there's plenty more to come from the old fella, believe me.
I knew he was in good nick by the way he was leading my Carole a merry dance down at the start. As you know, she always leads him up to the start because he's a bit quirky and I had to laugh at the way he was pulling her arms off as she waited to let him run into the stalls. It's The Gaffer who gets to go on telly but my Carole's played a bloody blinder throughout Goldy's career.
She's done such a phenomenal job getting Goldy to go in the stalls, The Gaffer's given her a new challenge for this season - to see if she can get the Doug Graham human to overcome his aversion to going to the bar and buying a round.
I also want to give a special mention to the Andrew Glass human. He looks after Goldy at home and rides him in most of his work on the gallops. Glassy's a smashing lad (Geddit?) and a right hard worker. I'm not surprised he was quite emotional afterwards when he was interviewed by that ever so polite Oli Bell human on the telly. After all, us horses and humans can develop a strong bond.
Talking of which, I'll happily develop a strong bond with whoever brings me the most carrots, so get a bloody move on.
P.S. We shouldn't overlook how well Pendleton ran to be third in the same race. Pendy (as I like to call him) has plenty of talent so, hopefully, he'll bag a nice race for the Dods Racing Club soon.
I WAS dead chuffed to see Aquamas win her second race on the bounce at Musselburgh at the start of the week, with the Connor human again in the saddle.
The filly's really got the knack of the game now. Connor's learning all the time too - but he'll never be as good as his young 'un.
Anyway, it always makes sense to me when a horse gets its name from its parents. In the case of Aquamas, her sire is Mehmas (who was trained to win the July Stakes and Richmond Stakes when trained by Richard Hannon) and her dam is Acquaint. Put the two together and you get Aquamas. Simple!
All of which makes me wonder. If the two human actors Peter Cushing and Whoopie Goldberg had got married and had a baby, would it have been called Whoopie Cushing?
WELL done also to Tinto, who is a new addition to the yard, for winning at Thirsk earlier today - only just holding on under the Connor human at Thirsk. I'm only just getting to know Tinto but he seems a nice enough fella.
ON other matters, I see they're advertising for new riders to be employed here at Denton Hall.
I have to admit, we've got a bloody good team of humans. I like 'em all – even Whistling Steve, despite the fact that he's always out of tune.
We're also based in a beautiful part of the world, with glorious gallops that make it a pleasure to be out in the fresh air.
But, surely, they're missing a trick. For a start, I should be on the interview panel to make sure any new recruits are up to the task. And, secondly, the advert, below, doesn't mention the biggest perk of all – being part of a yard which is home to an equine superstar (in yours truly)!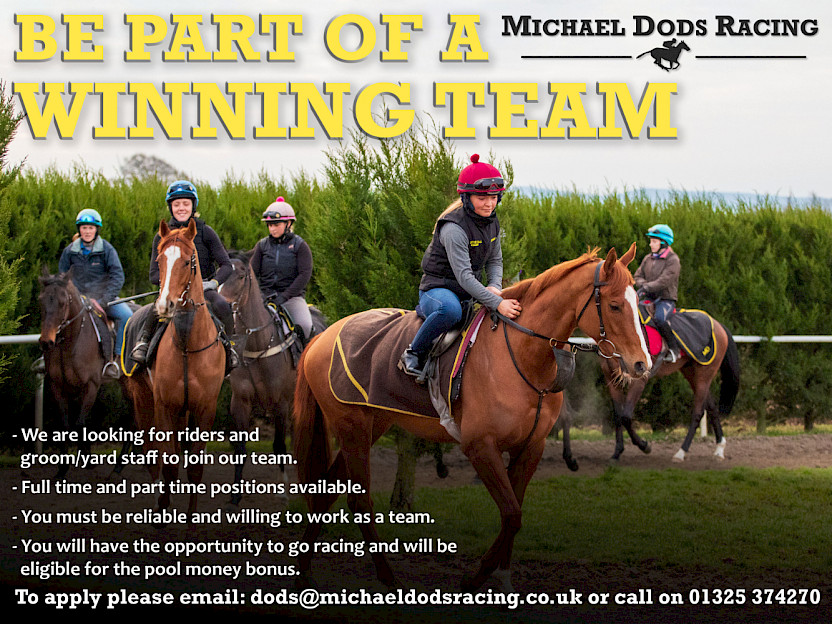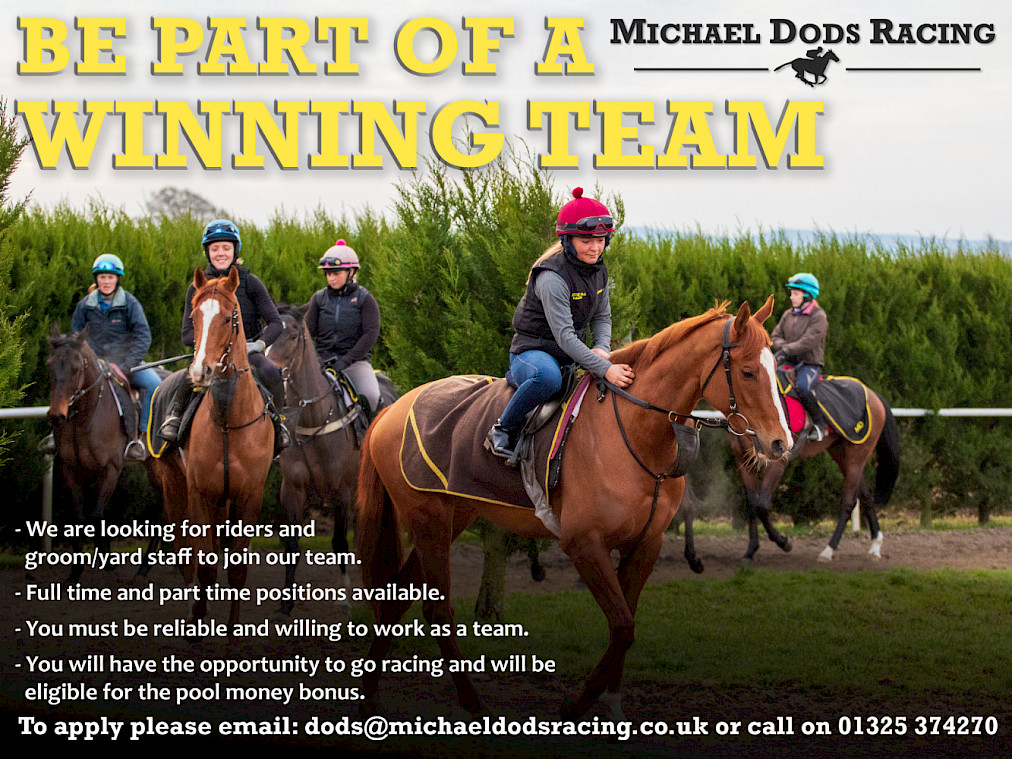 The advert should have a bloody big picture of me and a banner headline: YOUR CHANCE TO WORK ALONGSIDE THE LEGENDARY BARNEY MCGREW!
Seriously, this lot haven't got a scoobie when it comes to marketing.
Oh, and, by the way, what's all this 'pool money bonus' malarkey? Any spare dosh should be spent on extra carrots for me! I'd go on strike but, to be fair, I don't really do anything.
TALKING of new starters - I thought you'd like to know we've got shares available in a horse that's just joined us, called Dusty Carpet.
Apparently, it's never been beat!
What do you mean, that's an old one?
Anyway, folks, that's yer lot from me for this week. Let's sign off with another rendition of the Dakota Gold song. Until next week, lots of love...
DA-KO-TA GOLD, Always believe in your soul, You've got the power to know, You're indestructible, ALWAYS WITH BEASLEY, DA-KO-TA GOLD!