07-Jul-2022: Latest News from Denton Hall Stables the home of Michael Dods Racing
05-Jul-2022: Wor Willie strides to easy success under Paul Mulrennan at Pontefract
01-Jul-2022: Second career win for Alethiometer under Connor Beasley at Doncaster
21-Jun-2022: Proud Archi makes it five course and distance wins at Beverley
10-Jun-2022: York double for the yard as Northern Express defies topweight under Paul Mulrennan
10-Jun-2022: Gale Force Maya makes it her 10th career win at York
09-Jun-2022: Arch Moon bounces back to form with easy win under Connor Beasley at Haydock
08-Jun-2022: Azure Blue impresses under Paul Mulrennan at Hamilton
What a feat - for the horse with dodgy feet!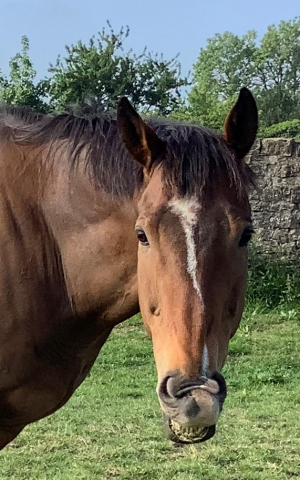 EVENING everyone, Barney McGrew here again – legendary racehorse, growing old disgracefully.
Well, I can't let the week pass without saying a massive well done to my pal Motawaazy – or Waazy as I like to call him – on winning on his seasonal debut at Catterick last week with the Connor human in the saddle.
What a bloody star Waazy's turned out to be. He won five times last season, three of them at Catterick, so he obviously loves it round there. I wouldn't care but I thought he still looked a bit on the tubby side when he was getting into the horsebox to go off to the races.
Not only that (and here's the real inside story) but he won despite losing his two front shoes during the race! It just goes to show what a never-say-die attitude he's got. It's like expecting the Lewis Hamilton human to win a Grand Prix with two flat tyres.
The truth is that Waazy's always had bad feet. That's partly why he was a right old bargain when that very nice Victoria Greetham human bought him from the Shadwell Estate at the Doncaster Sales in August 2019. He also had a suspected breathing problem, so that was another factor in stopping the big guns bidding for him.
I mean, when you look at his pedigree – by four-times Group 1 winner Kingman out of a Group 1 placed Storm Cat mare – he should have cost a lot more than the 11 grand she paid for him.
Then, before he came to us, he was tailed off on his first run and everyone said he'd never win a race and was utterly useless. But the Victoria human's a right stubborn bugger and she refused to give up on him. She decided to bring him up here to Denton Hall last season and what a bloody sight that was! She turned up holding Waazy's rein in one hand and pushing a pushchair with the other. You've never seen owt like it.
But then Waazy proved all the doubters wrong by not only winning five races but coming second three times as well. He started off on a mark of 46 and rocketed up to 72. WHAT A BLOODY LEGEND!!!
That said, it's not been easy for him. Waazy was telling me the other day that his feet were bloody murder when he was having his winter break down at Victoria's place at Halifax. She ended up paying a bloody fortune to have him standing in plaster casts, putting him on a special diet, and rubbing some special stuff on his feet to make the hooves grow stronger.
Just imagine how bloody good he'd be if he had four decent feet to run on!
The other thing about Waazy is that he's a right gentle soul. During a chat over the fence the other day, he was telling me how he'd even allowed the Victoria human's young un, Zara, to get on his back while he was in his field down in Halifax. She's only two – lovely little thing she is – but Waazy gave her a nice little ride while her mummy held the reins.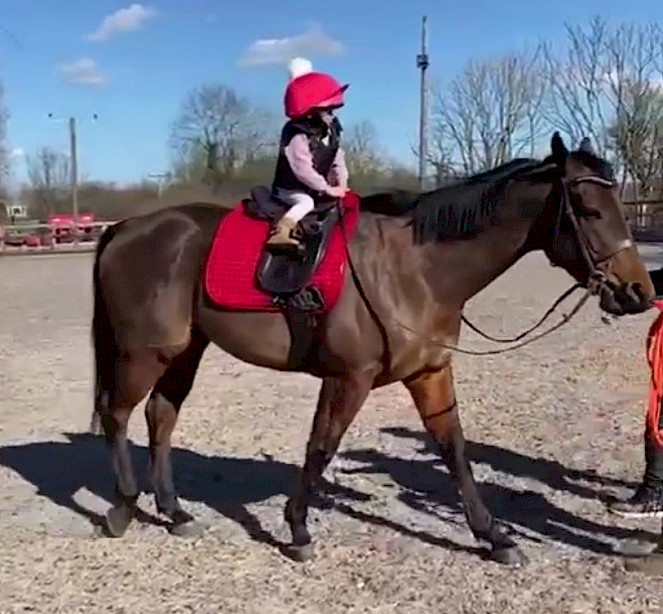 How many racehorses do you know that are capable of winning six races but are so soft that they allow a two-year-old to ride them?
If you ask me, having such a lightweight rider to carry around during the winter, could be the secret to Waazy's success. I might tell the Gaffer to give Zara a job, riding some of the other lazy buggers round here.
Anyway, I just wanted you all to know what a fairytale Motawaazy has managed to conjure up. The horse they said was a no-hoper just keeps winning – despite his rubbish feet. They should make a film of his life story if you ask me. Obviously, I'd have to be in it.
And mark my words, the fairytale isn't finished yet. Waazy's told me the Victoria human has promised him that he's got a home for life with her after he retires.
And he's such a handsome bugger, I hear on the grapevine that there might be a plan being cooked up by Victoria and a human friend of hers called Shelley to put him in the showring at the Horse of the Year show one day.
Oh yes, the Motawaazy story could run and run. It's the equine version of Cinderella. In fact, it's better than that because Cinders only lost one shoe!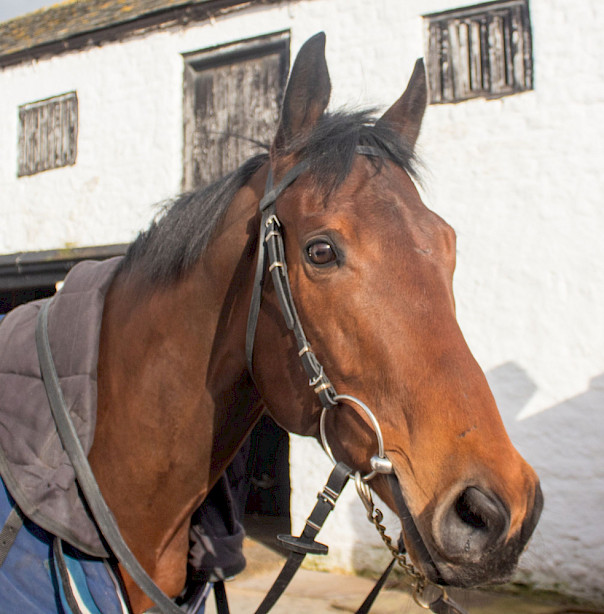 WE'VE got a lot of nice human owners at Denton Hall and I particularly like a couple called John and Alwyn Sagar.
Lovely people and great supporters of the yard, with Billy No Mates, Woven, and a couple of young 'uns called Pol Roger and Jack of Clubs running in their colours. That's them, below, with the nice Paige human after Woven was second at Redcar on Easter Monday.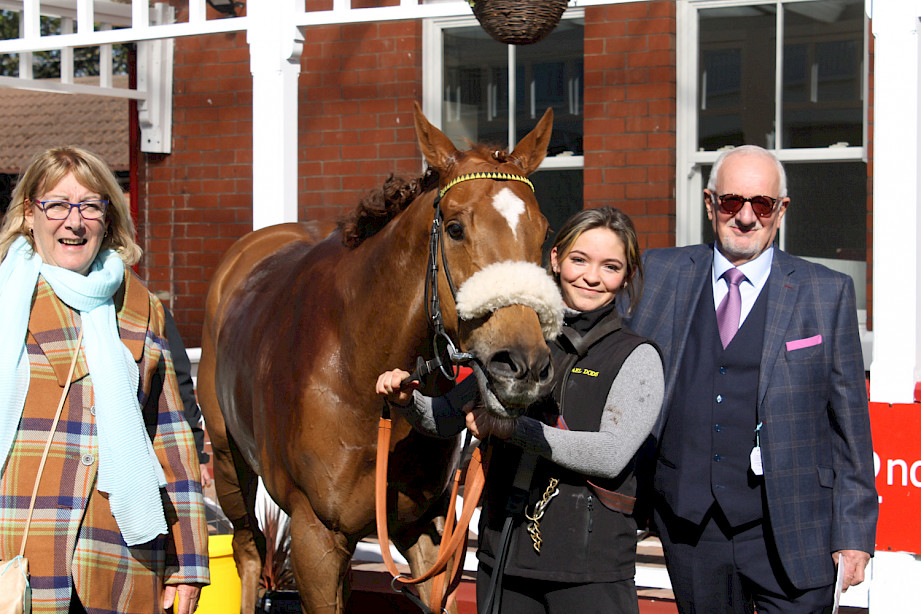 Mind you, I was a bit worried when I heard a conversation between Alwyn and our vet – the Phil Stamp human – the other day.
"I'm getting increasingly concerned about my John," Alwyn told Stampy. "He's started thinking he's a horse. He sleeps standing up, neighs instead of speaking, insists on being fed oats out of a bag, and keeps nuzzling in my bag for Polos."
"That's awful," replied the vet. "How long has this being going on?"
"Nearly a year now," explained Alwyn.
"Oh, you've left it far too long," said Stampy. "He's going to need an awful lot of treatment."
"It doesn't matter," said Alwyn. "I'll do anything to get my John back to normal."
"Well, I reckon it'll cost at least 10 grand – have you got that kind of money?" asked Stampy.
"Yes, that's no problem at all," said Alwyn. "He's already won three races at Redcar this season and he's favourite for the Zetland Gold Cup!"
FINALLY, I can't let the week pass without wishing the Paul Mulrennan human a happy 40th birthday for last Friday.
He spends a lot of time round here at Denton Hall. He's a cracking jockey – lovely hands – and he's a very nice fella too.
I had no idea he was 40. Mind you, it's hard to tell because he's been a grey as long as I can remember!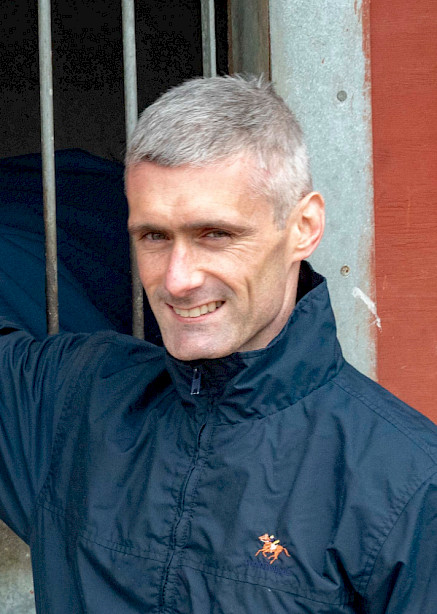 Until the next time, folks. Lots of love.