07-Jul-2022: Latest News from Denton Hall Stables the home of Michael Dods Racing
05-Jul-2022: Wor Willie strides to easy success under Paul Mulrennan at Pontefract
01-Jul-2022: Second career win for Alethiometer under Connor Beasley at Doncaster
21-Jun-2022: Proud Archi makes it five course and distance wins at Beverley
10-Jun-2022: York double for the yard as Northern Express defies topweight under Paul Mulrennan
10-Jun-2022: Gale Force Maya makes it her 10th career win at York
09-Jun-2022: Arch Moon bounces back to form with easy win under Connor Beasley at Haydock
08-Jun-2022: Azure Blue impresses under Paul Mulrennan at Hamilton
The Barney Awards 2021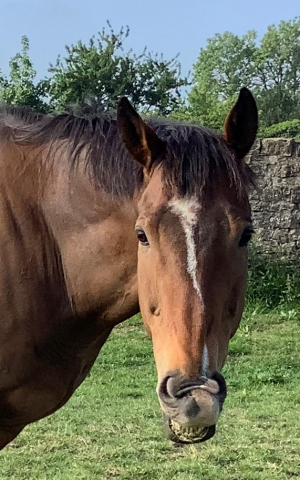 Hello everyone. Merry Christmas and a Happy New Year to all my legions of fans out there.
It's Barney McGrew here with the final Barney's Blog of the year. As you know, I hold the proud distinction of being the only racehorse in the world with a blog, so I hope you've enjoyed my updates during 2021. If I say so myself, they've been packed with wisdom, humour and sex appeal.
We've had another good year at Denton Hall, with 56 winners and now it's the moment you've all been waiting for – the results of The Barneys.
Forget The Lesters and The Cartier Awards, The Barneys are the most prestigious honours in the racing industry and I know you've been on tenterhooks waiting for the results.
I received lots of nominations but not one of you sent carrots or Polos, so you can all shove your nominations up your arses and I'll make my own mind up. Thanks anyway.
That said, here goes with the awards...
PERFORMANCE OF THE YEAR: Our first award has to go to my old mate COMMANCHE FALLS – or Commy as I like to call him – for winning The Stewards' Cup at Glorious Goodwood under a great ride by the Connor human.
What also sealed it for him was the way he performed at the photo-shoot back at Denton Hall. They decided to take the pictures in my Carole's garden (see picture below), and Commy chomped her prize petunias before having a big poo on her lawn.
Well done, Commy lad – I'm bloody proud of you.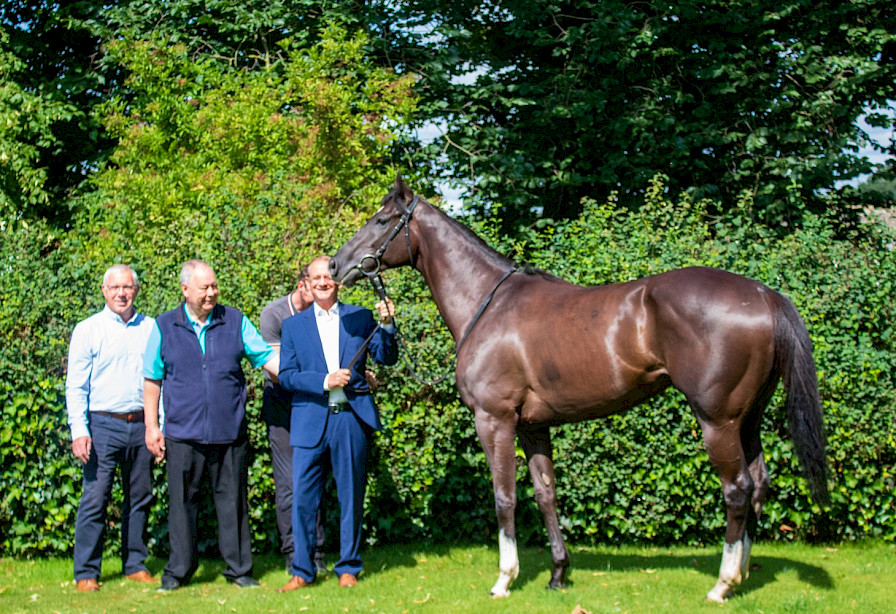 HORSE OF THE YEAR: I know a lot of people would have given it to Commanche Falls. After all, he won four times, including the Stewards' Cup at Goodwood and the Scottish Stewards' Cup at Hamilton.
However, the judging panel (made up of me) decided to give the award to MOTAWAAZY (pictured below).
It's not very often that a horse's rating goes up from 46 at the start of the season to finish on 72 after winning five races along the way. That's what Waazy did, so he deserves it in my book.
He's been spending the winter at home with the Victoria Greetham human and I hear he's been putting the beef on. If you're reading this Waazy - keep off the mince pies, and run around your field now and then, you fat git.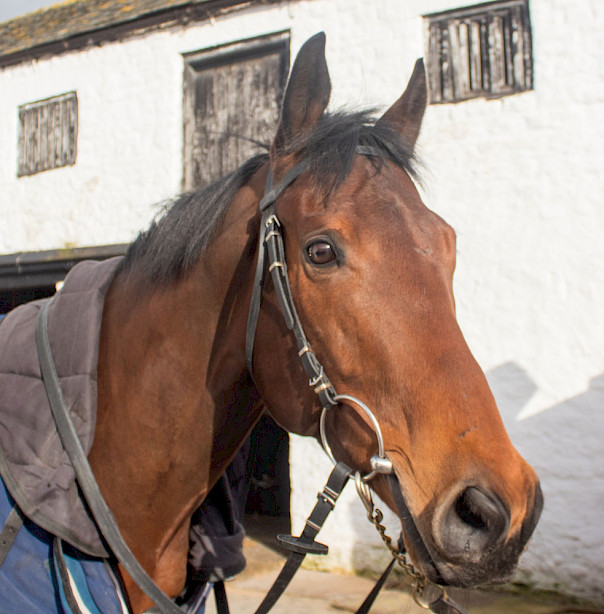 SILLY BUGGER OF THE YEAR: This has to go to Ian Davison – one of the owners of Commanche Falls – who came home with the wrong trophy after the Stewards' Cup.
As I understand it, he picked up the trophy won by the connections of Wonderful Tonight, who'd landed The Lily Langtry Stakes on the same card.
The Ian human was apparently caught on CCTV and the police put out a Crimestoppers appeal – saying HAVE YOU SEE THIS SHIFTY-LOOKING CHARACTER? – before he was eventually tracked down with the stolen silverware.
You couldn't make it up.
LIFETIME OF ACHIEVEMENT AWARD: I've decided to give this to my old friend Que Amoro (pictured below), who's left the yard to go off to be a mummy.
I know she had a disappointing last season but, on her day, she was one of the fastest things I've ever seen up the Denton gallops. She won five times in her career and who can ever forget the fright she gave Battaash in the Nunthorpe Stakes at York in 2020?
I reckon that race took so much out of the pair of them that they were never quite the same again.
Anyway, Que Amoro now has a lovely future as a brood mare after being bought by Yeomanstown Stud, which is a beautiful place in Kildare, Ireland. Apparently, they have very nice carrots there and she's promised to send me a postcard every now and then.
Obviously, it's well known that she's always fancied me and would have preferred to stay here at Denton, but I tried to explain as delicately as possible that I'm not up to giving her babies.
She'll just have to make do with the likes of Dark Angel – the sire of Mecca's Angel. Can you imagine what their young ones will be like? Shit off a shovel. Hopefully, I'll still be around to see one in training here at Denton one day.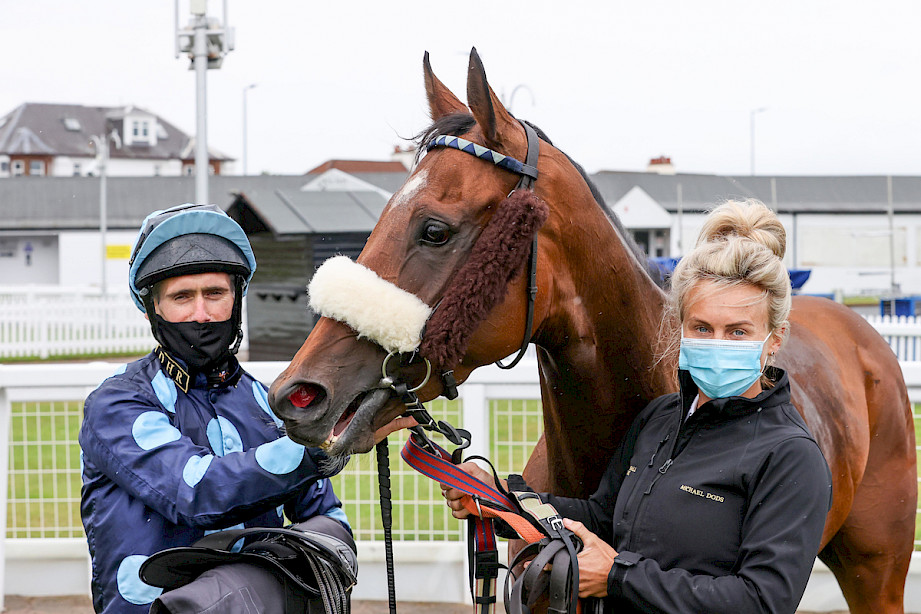 THE 'I'M GONNA MISS YOU' AWARD: I can't let these awards pass without a mention for a couple of buddies of mine, who've retired from racing this season.
We've said goodbye to Get Knotted – or Knotty, as I like to call him – a winner of eight of his 67 races (pictured below).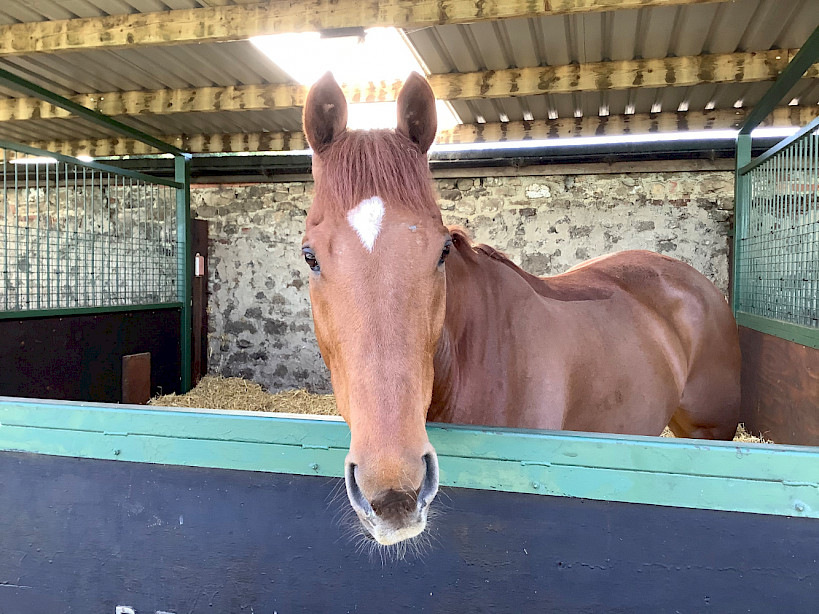 Byron's Choice – or Choicey, as I like to call him (pictured below) – has also gone off to pastures new after doing us proud. He won six times for the yard and was always very friendly when he passed my field.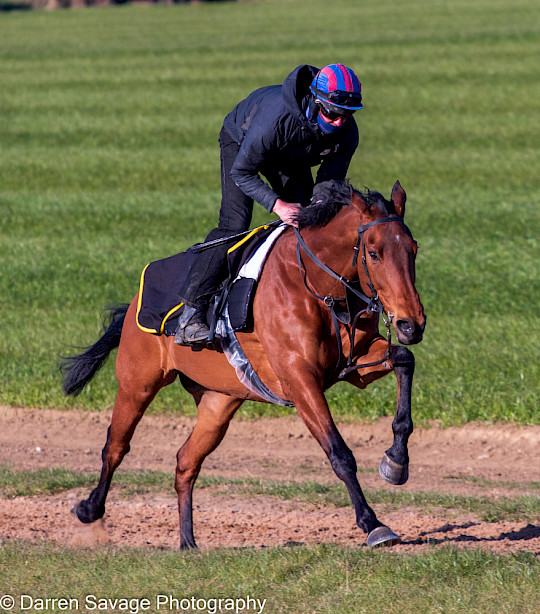 Farewell, old friends. Stay in touch and enjoy rolling in the grass.
UNSUNG HERO OF THE YEAR: There was a lot of competition for this award because we have a lot of great members of staff at Denton.
However, I've decided to give it to Rob Brown. At the end of every season, when the horses go home for winter, Rob whips his brush out and paints the horse-boxes ready for the new season.
He's such a good painter, I call him The Denton Pic-arse-o.
By the way, Rob nominated himself for this award. When I told him he'd won it, he replied: "Thanks, Barney – I'm glossed for words!"
Well done, Rob. Now shove your arse in gear and get my stable painted! I'd like it white with a big gold star on the wall please. And bring carrots.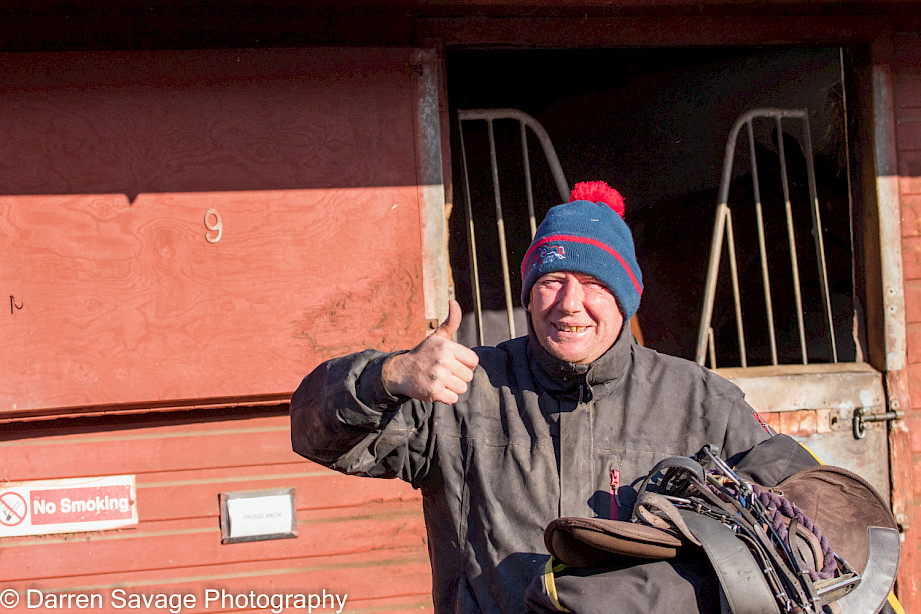 TRAINER OF THE YEAR: The Michael human. He won it last year as well. I'm not daft.
ASSISTANT TRAINER OF THE YEAR: The Carole human. Every time Dakota Gold runs, he'll only go in the stalls if Carole leads him up. Goldy loves her almost as much as I do.
CHRISTMAS CRACKERS…
I WAS chatting to Dakota Gold the other day and told him: "Michael will be on the plane now."
"Where's he off to this time?" asked Goldy.
"Nowhere," I replied. "He's taking half an inch off the stable door!"
I DON'T know if you've noticed but the Michael human – otherwise known as The Gaffer – has been having a lot of trouble with his eyesight this season. It's got so bad lately that he's now unable to find his way to the bar to buy a round.
Anyway, Carole took him to Specsavers in Darlington to get him some new designer glasses for Christmas.
"They'll be £500," said the optician.
"How much? I'm not bloody paying that – you can bugger off!" replied Michael.
"But they're bi-focal," said the optician.
"I don't care if they're by Frankel – I'm not bloody paying it," shouted Michael.
DID you hear what happened to that nice Paul Mulrennan human at Newcastle Races the other night?
He was riding one of Michael's two-year-olds and was streets ahead of the rest of the field when he got hit by a turkey and a packet of oatmeal biscuits as he came into the home straight.
Being the skilled horseman that he is, Paul managed to regain control of his mount, but a box of Christmas crackers and a dozen mince pies smacked him in the face.
He nearly came off but got his feet back in the stirrups and was still in the lead in the final furlong, only for a bottle of Baileys, a bag of Brazil nuts, and a Christmas pudding to land on his head.
An outsider finished strongly up the rail and Paul got beaten in a photo-finish.
Naturally, the stewards held an inquiry.
"Can you explain how you lost the race, Mr Mulrennan?" asked the Chief Steward.
"Yes, sir," replied the jockey. "I got badly hampered."
Happy Christmas everyone, stay safe, and lots of love,