07-Jul-2022: Latest News from Denton Hall Stables the home of Michael Dods Racing
05-Jul-2022: Wor Willie strides to easy success under Paul Mulrennan at Pontefract
01-Jul-2022: Second career win for Alethiometer under Connor Beasley at Doncaster
21-Jun-2022: Proud Archi makes it five course and distance wins at Beverley
10-Jun-2022: York double for the yard as Northern Express defies topweight under Paul Mulrennan
10-Jun-2022: Gale Force Maya makes it her 10th career win at York
09-Jun-2022: Arch Moon bounces back to form with easy win under Connor Beasley at Haydock
08-Jun-2022: Azure Blue impresses under Paul Mulrennan at Hamilton
The secrets of staying handsome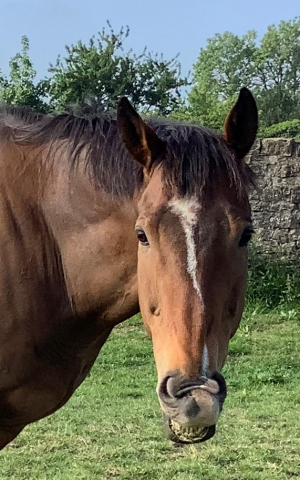 MORNING everyone, hope you're having a nice relaxed Sunday and had a lie-in, like me.
All the gossip this morning is about racing getting going again on Monday. Dancin' Boy, Twist of Hay and Heath Charnock are full of it – just because they're the first runners for a while. They think they're special – 'the chosen ones'.
What they don't realise is that I'm the real star of the yard, not just because of my track record but because of my looks. I'm often asked: "Barney, how come you look so gorgeous at your age?"
It's a very good question but the truth is that I've always been naturally good looking, ever since I was a foal over in Ireland.
In many ways, I suppose I'm the George Clooney of the horse world – I'm ageing like a fine wine, and the mares still find it hard to keep their eyes off me. Mabs Cross was infatuated. (Mind you, there's not a lot I can do in that department, if you get my drift.)
Apart from that little matter – I'm a lovely biscuity bay colour and I've still got a pretty impressive physique. Well, OK, I'm a bit thicker round the belly these days, but you could say that about lots of fellas who are knocking on a bit.
When I was racing, I was blessed with a high cruising speed, so I didn't have to try as hard as lesser horses, and that's helping to keep me looking young later in life.
What really gets my admirers going is that distinctive white marking down my nose. They find it irresistibly cheeky. Sets me apart, it does.
The Carole human likes to keep my mane tidy and she's always giving me carrots and Polo mints that keep my breath fresh. To be honest with you, she can't keep her hands off me. Obsessed she is.
I don't mind letting you in on the secret of my exercise regime…I trot 10 lengths of my field each day and, now and again, I do a full gallop just to show the whipper snappers that I've still got it. I also do five full rolls every day to keep myself supple and give the old back a scratch.
There are a few round here who fancy themselves – that Dakota Gold thinks he's God's gift since he started winning a few, and so does Camacho Chief. That Pendleton's a right poseur, as well – always sticking his head out of the box. But, come on, let's be honest, they'll never be as 'andsome as me.
The only slight problem I have these days is my knees are a bit stiff when I'm getting up in the mornings.
Oh, and to be honest with you, my eyesight isn't quite what it used to be. I might ask the Kenny human – the travelling head lad – to take me for a ride in the wagon to Barnard Castle. Works wonders, apparently.
Take care