07-Jul-2022: Latest News from Denton Hall Stables the home of Michael Dods Racing
05-Jul-2022: Wor Willie strides to easy success under Paul Mulrennan at Pontefract
01-Jul-2022: Second career win for Alethiometer under Connor Beasley at Doncaster
21-Jun-2022: Proud Archi makes it five course and distance wins at Beverley
10-Jun-2022: York double for the yard as Northern Express defies topweight under Paul Mulrennan
10-Jun-2022: Gale Force Maya makes it her 10th career win at York
09-Jun-2022: Arch Moon bounces back to form with easy win under Connor Beasley at Haydock
08-Jun-2022: Azure Blue impresses under Paul Mulrennan at Hamilton
Unbelievable! How could the telly ignore the real star of the show?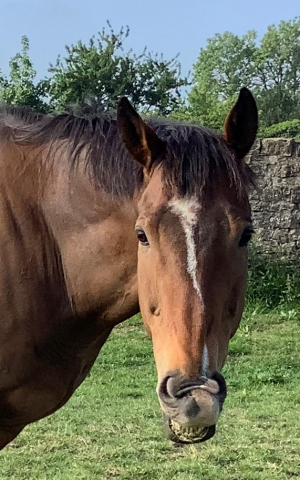 We had a bit of excitement here at Denton Hall this morning when the telly cameras turned up – but can you believe I was ignored!
How dare they? Don't they know who I am? More than 80 races I ran, with nine wins. That's a career anyone with a brain would describe as illustrious and yet I'm not given a look in.
That's the problem with this country – there's not enough respect for us old-timers. I kept poking my head over the fence to try to get in the shot but the cameras just focused on those young whipper snappers going up the gallops. Prima donnas, the lot of them.
I heard they then interviewed the head human, called Michael. I know he's the boss because the horse-boxes have got his name on the side, and he likes to look important. Mind you, he's dead jealous of me because his wife - the Carole human – clearly prefers me to him.
They also interviewed two of the jockey humans, Callum Rodriquez and Connor Beasley. They're nice enough, I suppose, but I've forgotten more about racing than they'll ever know. They think they're celebrities, but they haven't got their own blog, have they?
All I'm saying is that the next time the TV cameras show up, they need to be told that they can only film if they include the real star of the yard – and everyone knows that's me.
Until next time – stay safe.
Lots of love