07-Jul-2022: Latest News from Denton Hall Stables the home of Michael Dods Racing
05-Jul-2022: Wor Willie strides to easy success under Paul Mulrennan at Pontefract
01-Jul-2022: Second career win for Alethiometer under Connor Beasley at Doncaster
21-Jun-2022: Proud Archi makes it five course and distance wins at Beverley
10-Jun-2022: York double for the yard as Northern Express defies topweight under Paul Mulrennan
10-Jun-2022: Gale Force Maya makes it her 10th career win at York
09-Jun-2022: Arch Moon bounces back to form with easy win under Connor Beasley at Haydock
08-Jun-2022: Azure Blue impresses under Paul Mulrennan at Hamilton
What a job for Bob the cob!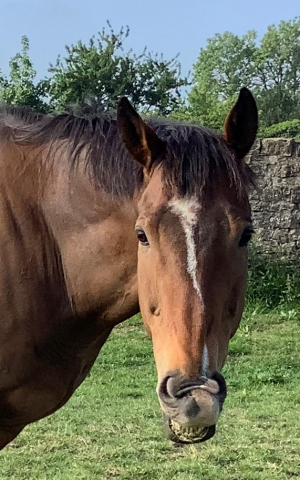 Evening all, Barney McGrew here. Superstar equine blogger.
Sorry I haven't done a blog for a while but, quite frankly, I'm getting on a bit and I couldn't be arsed.
Anyway, I was having a natter with a nice three-year-old called Dulla Bhatti over the fence the other day. He's joined us from Elwick Stud, near Hartlepool, and he was telling me what a beautiful place it is.
Apparently, they have loads of lovely mares over there (not that I'd be able to do anything for them nowadays, more's the pity).
But, hey, listen to this…Dulla was telling me they've got this little cob over there called Bob (pictured below). As you can see, he's got a Rod Stewart hairdo and his job title is "Official Teaser". All he has to do is get the mares 'ready' for the stallions. Well, the mind boggles! I suppose it just means he's got to chat 'em up a bit and wiggle his bum.
He's only a little fella but they reckon he's a right sex symbol – a bit like that Tom Cruise human I suppose. Don't they say he has to stand on a box?
Thinking about it, I suppose I'm a bit of a tease in my own way. I'm dead handsome, and incredibly fanciable, but then the ladies discover I'm a gelding. Must be bloody frustrating for them, eh?
Apart from that, I was intrigued to know how Dulla Bhatti got his name and he told me it's taken from a folk hero from the Punjab region. Fancy that – a kind of Indian Robin Hood. You learn something every day with Barney's Blog…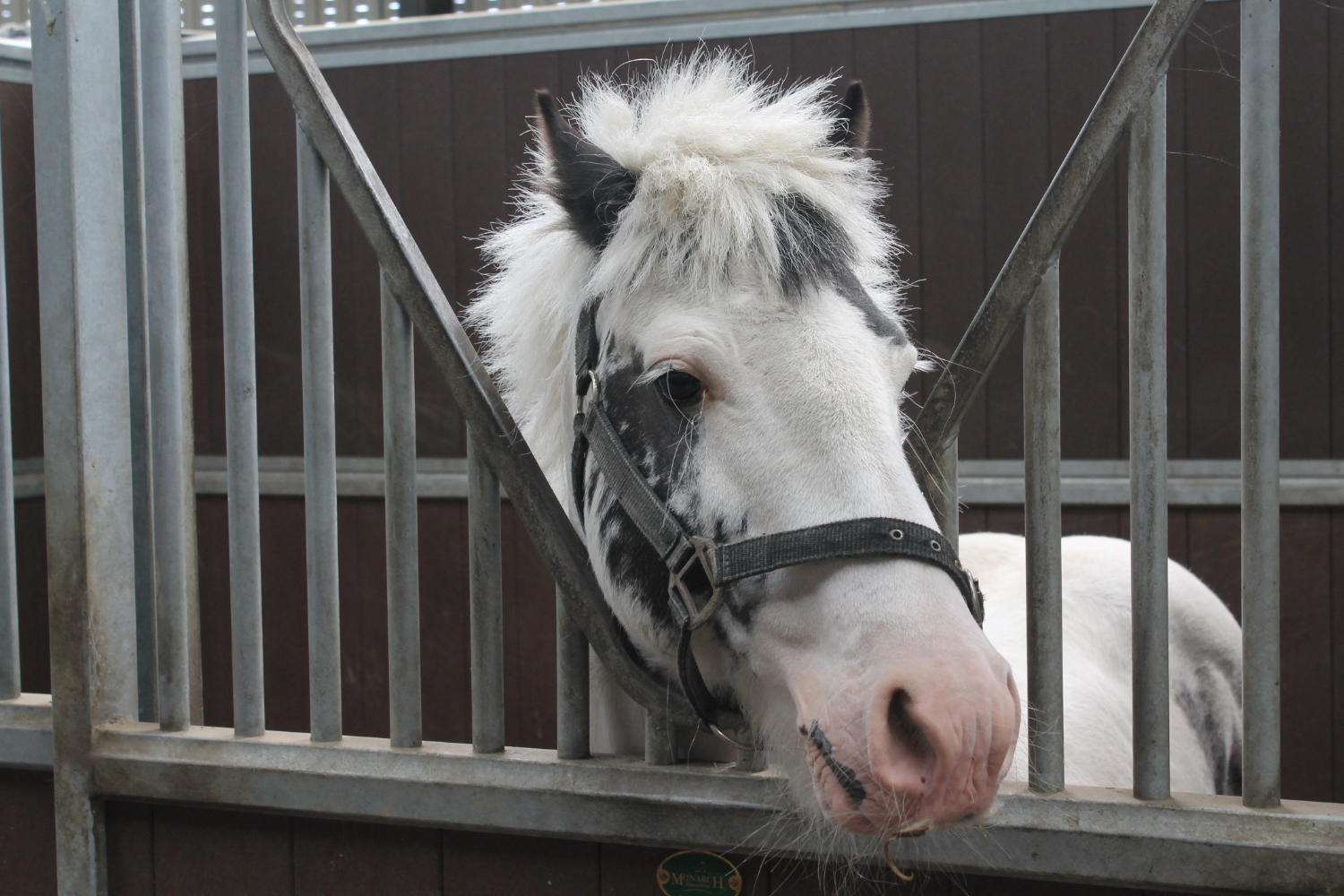 ON the track, we've had a cracking week and I can't pass without a few words of congratulations, starting with a lovely filly called Navajo Spring – or Springy as I like to call her. She won at Redcar at the start of the week with the Connor human in the saddle (see picture below) and there were even humans allowed in to watch for the first time in ages. Noisy buggers.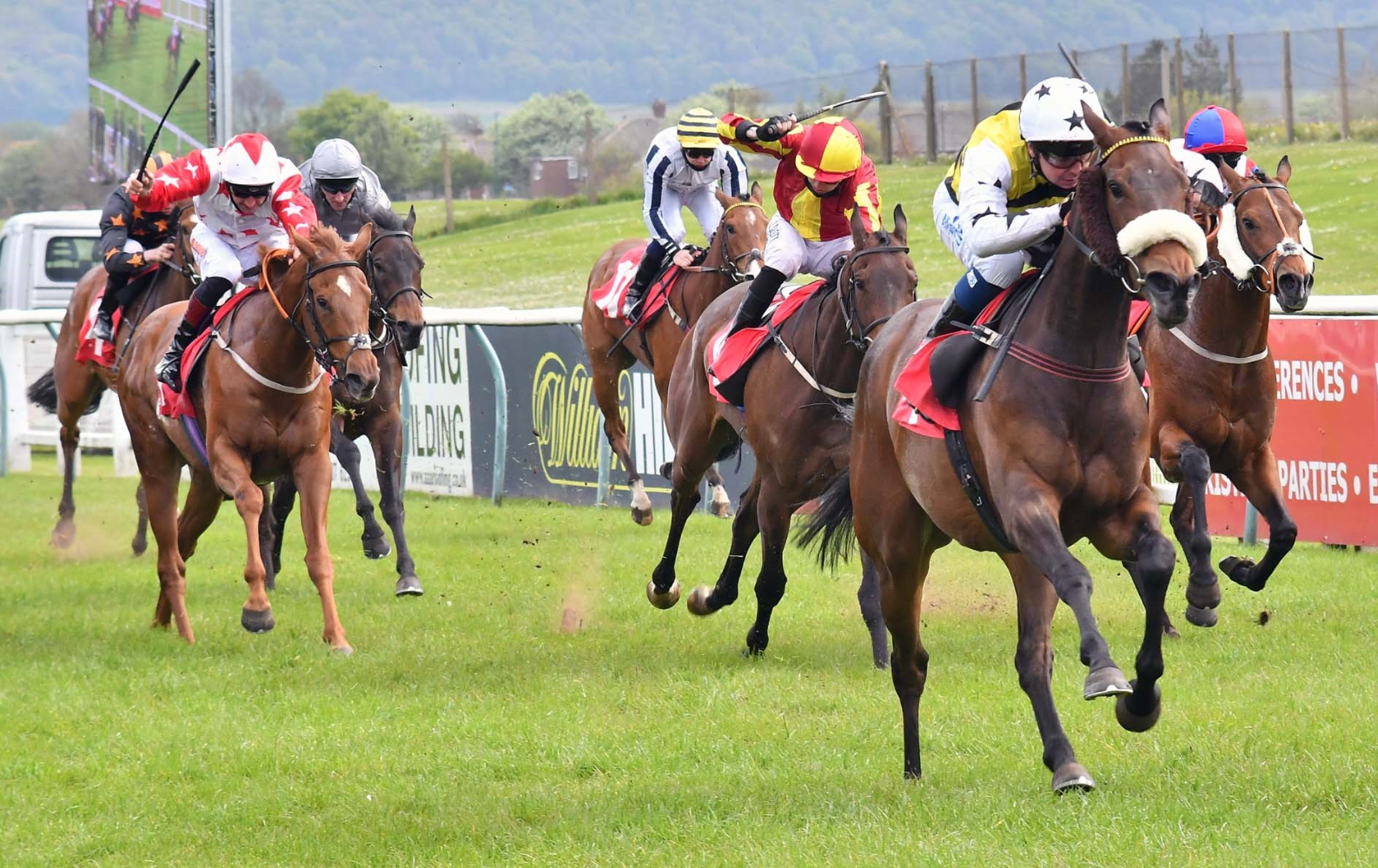 She was stretching clear all the way to the line so I reckon there's still improvement to come from her. Smashing lass, she is.
Her dad is Charm Spirit, who was trained in France, and won a string of big races, including the Queen Elizabeth Stakes at Ascot in 2014.
Anyway, you may or may not know that Navajo Spring is owned by a nice human called Doug Graham, who's been a really loyal owner at Denton over the years. Dakota Gold – or Goldy as I like to call him – also runs in his colours.
What I bet you didn't know is that Doug's son, Steve Graham, is a famous mountaineer. He's climbed the highest mountains in all seven continents – including Everest – and he's known as "Seven Summit Steve". He's raised loads of money for charities in the process, so good for him.
I WAS also chuffed for one of the young 'uns, Red Warning, who battled well to win under the Connor human to out-stay the favourite Showtime Mahomes in only his second run up at Ayr (see picture below). He's a two-year-old by Bungle Inthejungle, who was a dual Group Three winner trained by Mick Channon. The two-year-olds are usually in awe of me but Red's got a good attitude and isn't afraid to ask for advice.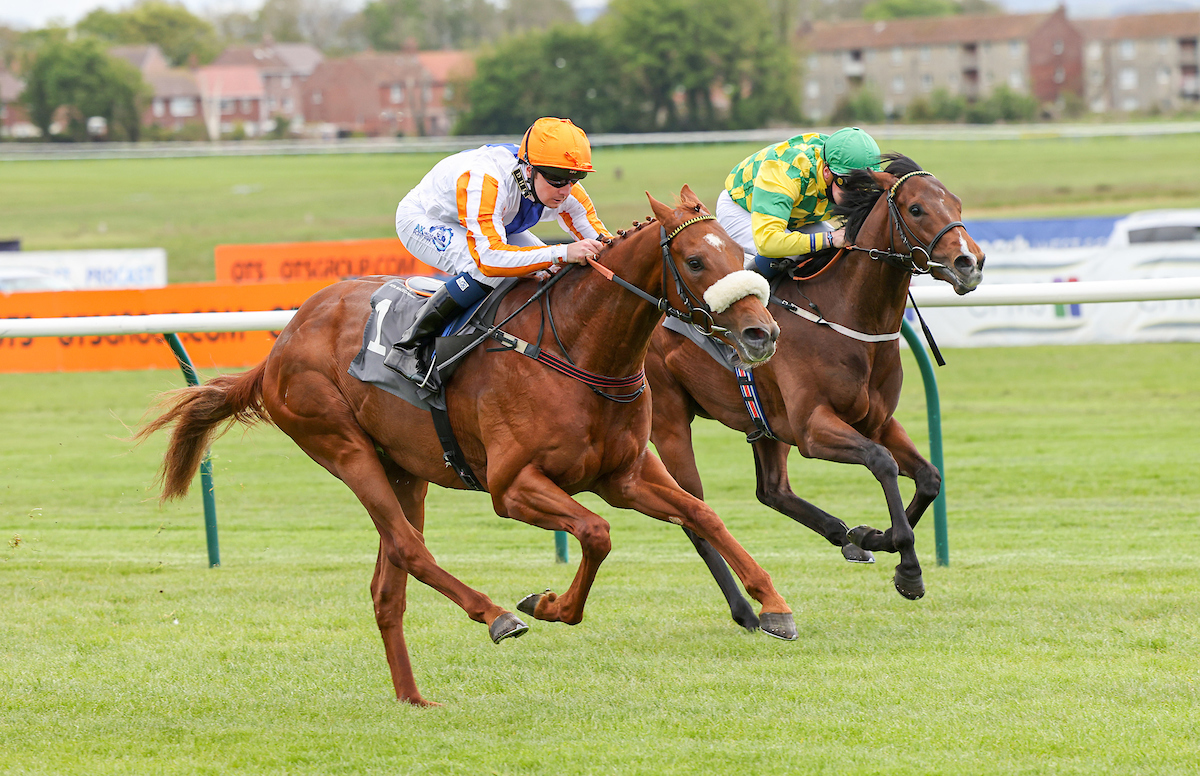 THEN we had Pendleton putting up a fantastic performance to win at York earlier today with the Callum human in the saddle. I'm really pleased for Pendy because he was on the sidelines all season last year but I always knew he was a good horse. I reckon there's a lot more to come too for his owner, the human David Armstrong, who also owned my old friend Mabs Cross.
ANYWAY, after all that excitement, back  to Bob, the Teaser, to finish off this blog. I've just been reliably informed that these are his three most successful chat-up lines, and I thought they might come in useful for a few lonely hearts round here.
"Hi, my name's Bob – but you can call me tonight."
"Are you a Wi-Fi hotspot? Because I feel a connection."
"If you were a phaser on "Star Trek", you'd be set to stun."
FINALLY, the Derby's coming up in a couple of weeks and I already know the winner. It's nailed on but I haven't decided yet whether to let you in on the secret.
I told you I was a tease!