07-Jul-2022: Latest News from Denton Hall Stables the home of Michael Dods Racing
05-Jul-2022: Wor Willie strides to easy success under Paul Mulrennan at Pontefract
01-Jul-2022: Second career win for Alethiometer under Connor Beasley at Doncaster
21-Jun-2022: Proud Archi makes it five course and distance wins at Beverley
10-Jun-2022: York double for the yard as Northern Express defies topweight under Paul Mulrennan
10-Jun-2022: Gale Force Maya makes it her 10th career win at York
09-Jun-2022: Arch Moon bounces back to form with easy win under Connor Beasley at Haydock
08-Jun-2022: Azure Blue impresses under Paul Mulrennan at Hamilton
When Irish eyes are smiling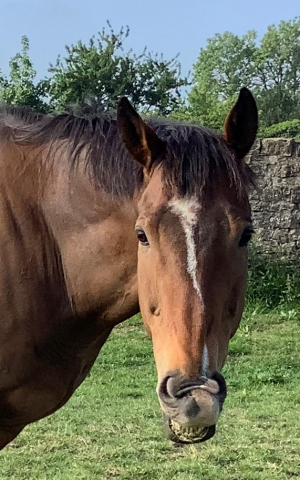 Evening all,
As much as I've loved living in County Durham for most of my life, I've never forgotten my Irish roots. I was born on the Emerald Isle and I'll always have Irish blood running through my veins.
Don't tell anyone but, when no-one's looking, I like to do a little Irish jig in my stable, and I'm partial to a drop of Guinness. On a good night, I'm like a pissed equine Michael Flatey, only I've got more rhythm.
Anyway, why am I at pains to point out my Irish credentials? Because the Irish gave the English a bloody good hiding at Cheltenham, didn't they? To be sure, to be sure, so they did.
In fact, it was a bit embarrassing. By Friday night, the score was 23 Irish winners to a mere five for the home side. And those winners included Henry de Bromhead (silly name) winning the Champion Hurdle with Honeysuckle, the Queen Mother Champion Chase with Put The Kettle On, and the Gold Cup with Minella Indo.
What's more, Rachael Blackmore (she's from Ireland too) was the Festival's  champion jockey. What a star she's turning out to be – not as good as my Carole though.
All of this has got me thinking. Why don't they introduce an England versus Ireland competition at Cheltenham, along the lines of The Ryder Cup in golf? We've also got The Shergar Cup on the flat, with Great Britain and Ireland taking on Europe and the Rest of the World, so why not a new competition at Cheltenham?
It could be called The Barney Cup in honour of an equine superstar who has a hoof in both camps – Irish born but living in England. Genius!
ANOTHER Irish highlight at Cheltenham was Tiger Roll winning for the fifth time at the Festival in the Cross Country Chase.
What an amazing little horse he is and what a crying shame he isn't going to be allowed to try for a third Grand National win because his owner says he'd been given too much weight. Having seen the way he won at Cheltenham, I reckon he'd have taken all the beating off 12 stone.
I'll be giving you my thoughts on the Grand National runners, and telling you the winner, in an upcoming blog. Let's just say, I've got some inside information.
IN the meantime, it's getting really busy round here, with the new season just a week or so away from starting.
I was having a chat with Goldy (Dakota Gold) over the fence the other day and he reckons he's in for another good season, once the going gets soft. "I'm a superstar now, dear boy," he said to me.
Cocky sod.
I WAS also having a chinwag with Brunchy the other day and he says to me:
"Hey, Barney, what's a horse's favourite footballer?"
"I've got no idea, Brunchy," I said.
"Neighmar," he replied.
What an arse!
See you soon, everyone, I'm off to put the kettle on!