07-Jul-2022: Latest News from Denton Hall Stables the home of Michael Dods Racing
05-Jul-2022: Wor Willie strides to easy success under Paul Mulrennan at Pontefract
01-Jul-2022: Second career win for Alethiometer under Connor Beasley at Doncaster
21-Jun-2022: Proud Archi makes it five course and distance wins at Beverley
10-Jun-2022: York double for the yard as Northern Express defies topweight under Paul Mulrennan
10-Jun-2022: Gale Force Maya makes it her 10th career win at York
09-Jun-2022: Arch Moon bounces back to form with easy win under Connor Beasley at Haydock
08-Jun-2022: Azure Blue impresses under Paul Mulrennan at Hamilton
A strange but rewarding season - review of 2020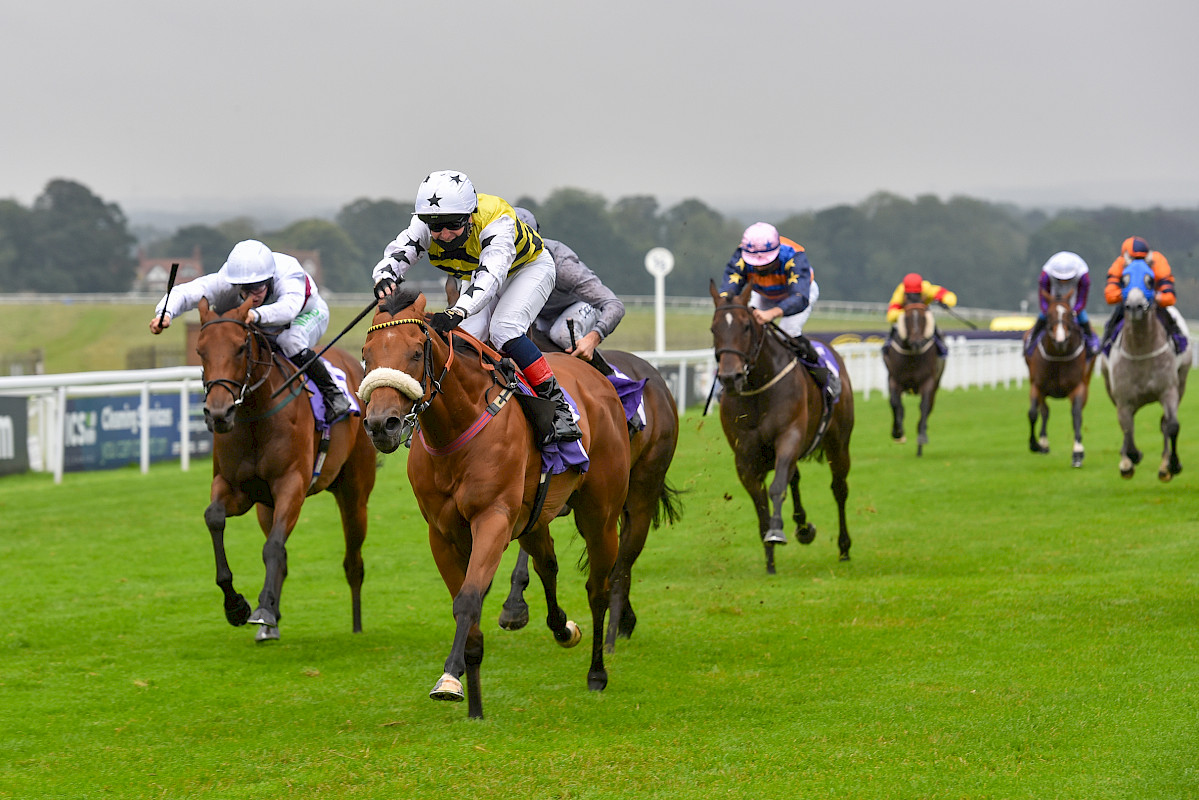 Michael Dods talks to SCOTT WILSON, Chief Sports Writer of The Northern Echo, about the challenges and successes of 2020
AS he looks out of his kitchen window at Denton Hall, watching the autumnal winds whip around his stable doors, Michael Dods can reflect on another successful Flat season.
There have been more than 40 winners since the start of the year, including a Group success courtesy of sprint star Dakota Gold (main image). Some established horses have embellished their reputation, some emerging youngsters have hinted at exciting times to come. Inevitably, one or two equine residents have failed to live up to their billing.
Ultimately, though, as he looks back on what was undoubtedly the strangest and most challenging season of his training career, Dods can take satisfaction in having contributed to the survival of his sport. 2020 was the year that racing somehow kept its show on the road. It might not sound like much, but in the face of a global pandemic, it was quite some achievement.
"It's been tough for everybody," said Dods. "Trainers, owners, jockeys, stable staff, racecourses – everyone has struggled. But the biggest thing is that we've managed to keep going, and if you think back to the spring, when everything was locked down, that was far from certain.
"When you take a step back, you have to say that everyone has done a pretty good job to keep racing going. Yes, there have been problems, and yes, there are things that still need addressing. But the sport has survived and the horses have been able to race.
"It's gone without a hitch really, and it's all been done in a very safe fashion, which is obviously the most important thing. It's certainly not been ideal to race without crowds, and I feel for the owners especially who haven't been able to get the experience they'd want. But we've made it through, and now we just have to hope next season is back to something much more like normal."
Dods is generally happy with the way his horses have performed this year – "you're always greedy and want more, but in the main, they've done well considering how difficult it has been to place certain horses because of the changes to the calendar" – and, unsurprisingly, he picks out Que Amoro's sensational run in the Nunthorpe as one of his highlights.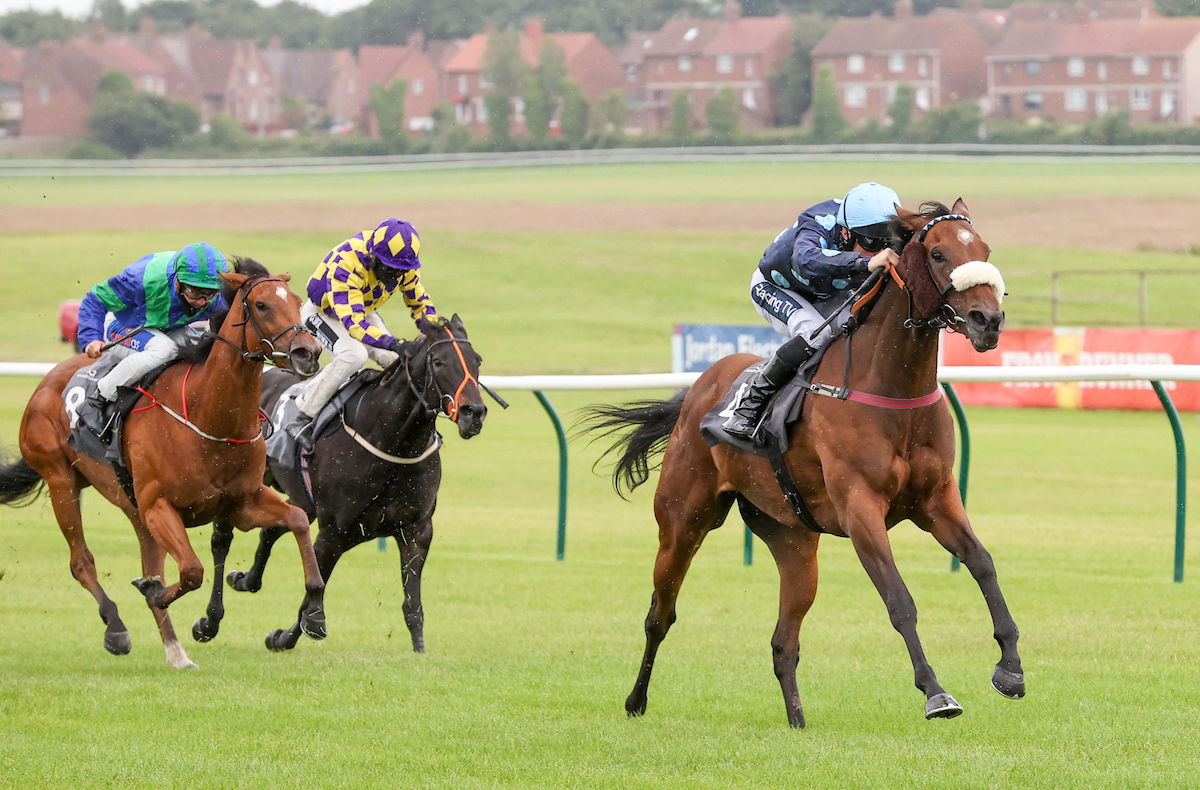 The four-year-old speedster (pictured above, winning at Ayr) pushed Battaash all the way before going down by a length on the Knavesmire, and while her subsequent run in the Derrinstown Stud Flying Five at the Curragh was a disappointment, there were excuses for her Irish run.
"Que Amoro ran a blinder in the Nunthorpe, and although we didn't quite realise it at the time, that run probably took a hell of a lot out of her," said Dods. "She pushed Battaash just about as hard as he's ever been pushed, and in hindsight, it was such a hard race.
"We went over to Ireland after that, but she was probably bottomed out a bit and the ground was all wrong. That wasn't her running at all, but we've got all winter now to freshen her back up. We're really looking forward to seeing what she can do next season."
Dakota Gold will be back for more too, having come into his own in the autumn with three successive wins at Listed and Group Three level.
"Dakota Gold always comes into his own towards the end of the year when there's a bit of ease in the ground," said Dods. "He'd had such a good season the year before that we knew it was going to be harder for him this year, but he responded superbly when he got on a roll. We thought that if he could get one win at Listed or Group level that would be great – never in our wildest dreams did we think he would win three on the spin."
At the other end of the experience scale, a reshuffling of the programme made it tougher to place two-year-olds, although Dods remains confident he has a nice crop of youngsters to look forward to come the spring.
"It's been hard with the two-year-olds," he said. "The nurseries weren't really there like you'd normally expect, but I'm convinced we've got some horses that will make up into nice three-year-olds. And then we've also brought in a nice crop of yearlings and supplemented the numbers with one or two from the sales.
"There's been a reasonably high turnover of horses this year, but you have to do that as a yard if you want to keep moving forward. You have to let a few older horses go to get in a few new faces. We've been able to do that and it should stand us in good stead for the next few years."
Some of Dods' horses will remain at Denton Hall for the winter, others will head off to their owners' homes to relax and recuperate. By the time they all come together again in the spring, their trainer is hoping the world is in a different place.
"The biggest thing next year will be getting the crowds back," he said. "It's not the same sport without them, and my biggest hope for 2021 is that all of our owners can have a proper day out at the racecourse watching their horses run.
"That's what people come into the sport before, and they've been deprived of it this year. We've kept things going, but it hasn't been the same."