07-Jul-2022: Latest News from Denton Hall Stables the home of Michael Dods Racing
05-Jul-2022: Wor Willie strides to easy success under Paul Mulrennan at Pontefract
01-Jul-2022: Second career win for Alethiometer under Connor Beasley at Doncaster
21-Jun-2022: Proud Archi makes it five course and distance wins at Beverley
10-Jun-2022: York double for the yard as Northern Express defies topweight under Paul Mulrennan
10-Jun-2022: Gale Force Maya makes it her 10th career win at York
09-Jun-2022: Arch Moon bounces back to form with easy win under Connor Beasley at Haydock
08-Jun-2022: Azure Blue impresses under Paul Mulrennan at Hamilton
Dods has Ayr Gold Cup in his sights for Goodwood hero Commanche Falls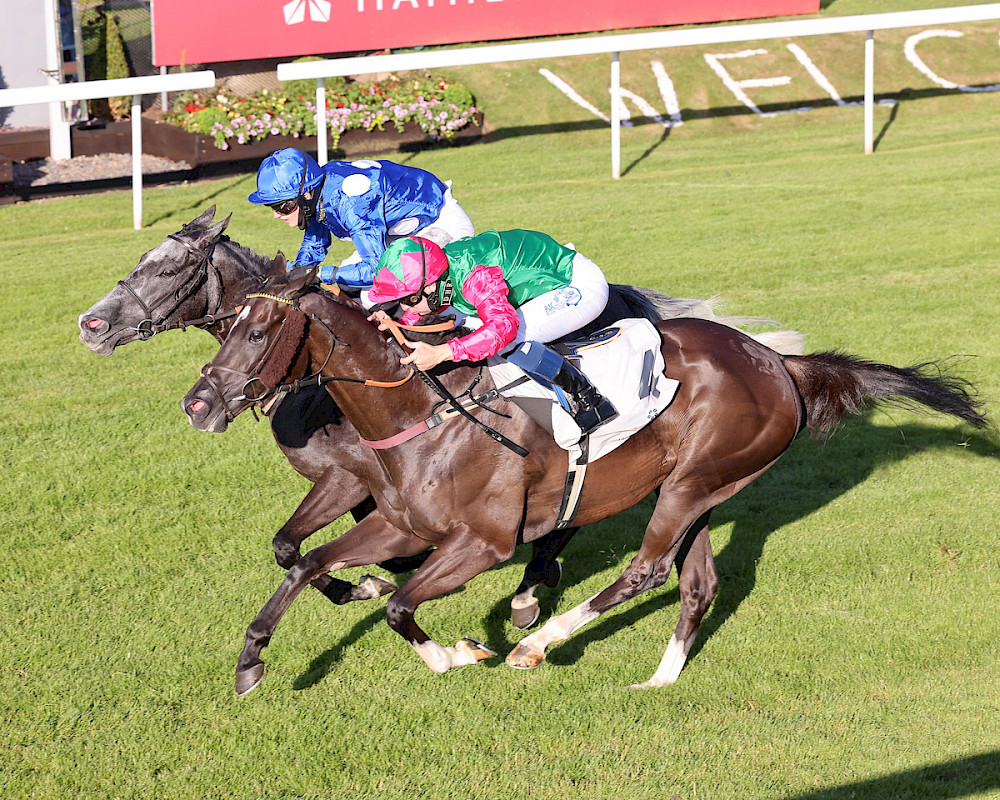 TRAINER Michael Dods has his sights set on the Ayr Gold Cup for emerging star Commanche Falls after the gelding's scintillating victory in the Unibet Stewards' Cup at Goodwood today.
The 10-1 shot flew home to win one of the season's most competitive sprint handicaps by a neck from David O'Meara's Gulliver, with Great Ambassador, trained by Ed Walker, a further three-quarters of a length back in third.
Now, the progressive four-year-old gelding will be aimed at Scotland's showpiece handicap on September 18.
Dods, who stopped to watch the race on his phone while travelling back from Doncaster, said: "It's great for everyone connected with the yard, great for the owners, great for Connor Beasley, and great for the north."
Commanche Falls, owned by Doug Graham, Ian Davison, and Alan Drysdale, had earned his place in the race after landing the Scottish Stewards' Cup at Hamilton a fortnight ago, having earlier won at Ayr and Ripon this season.
Dods added: "We were a bit worried about the ground but he stayed on well under a great ride from Connor, who's riding better than ever this season. It's never easy to win a race like that – one of the most competitive races of the season – but he's improved throughout the season."
Commanche Falls, pictured winning the Scottish Stewards' Cup, is a half-brother to Dakota Gold, who is in the same ownership, but the trainer said they are completely different types.
"Dakota Gold likes to lead whereas Commanche Falls likes to come from behind. He grinds it out and only does what he has to do," he said.
The trainer thanked Daily Mirror chief racing correspondent Dave Yates for representing the Denton Hall stable at the draw. The yard ended up with two choices – 15 or 23 – and the choice was 23, which proved to be a good decision, the way the race panned out.
Dods believes the best route forward is for the horse to stay in big handicaps. "He got beat in a small field at Thirsk and he benefits from being in a big field. Ground permitting, he'll go for the Ayr Gold Cup, although he'll have a run somewhere before that," he said.
Dods came close to training the winner of the Ayr Gold Cup when Barney McGrew was beaten by a head by the Clive Cox-trained Jimmy Styles in 2009, and now hopes to go one better with Commanche Falls.
The trainer said it was also fitting to remember Ron Davison, who passed away a few years ago, and is the father of Commanche Falls' co-owner, Ian Davison.
"Ron used to be in partnership with Doug Graham and he absolutely loved Goodwood,. He'd have been very proud, so he shouldn't be forgotten," he said.
The Stewards' Cup consolation race was also won by the north, with Mr Wagyu, trained at Malton by John Quinn, prevailing under Jason Hart.