07-Jul-2022: Latest News from Denton Hall Stables the home of Michael Dods Racing
05-Jul-2022: Wor Willie strides to easy success under Paul Mulrennan at Pontefract
01-Jul-2022: Second career win for Alethiometer under Connor Beasley at Doncaster
21-Jun-2022: Proud Archi makes it five course and distance wins at Beverley
10-Jun-2022: York double for the yard as Northern Express defies topweight under Paul Mulrennan
10-Jun-2022: Gale Force Maya makes it her 10th career win at York
09-Jun-2022: Arch Moon bounces back to form with easy win under Connor Beasley at Haydock
08-Jun-2022: Azure Blue impresses under Paul Mulrennan at Hamilton
Dods reflects on another successful season - but calls for better deal for owners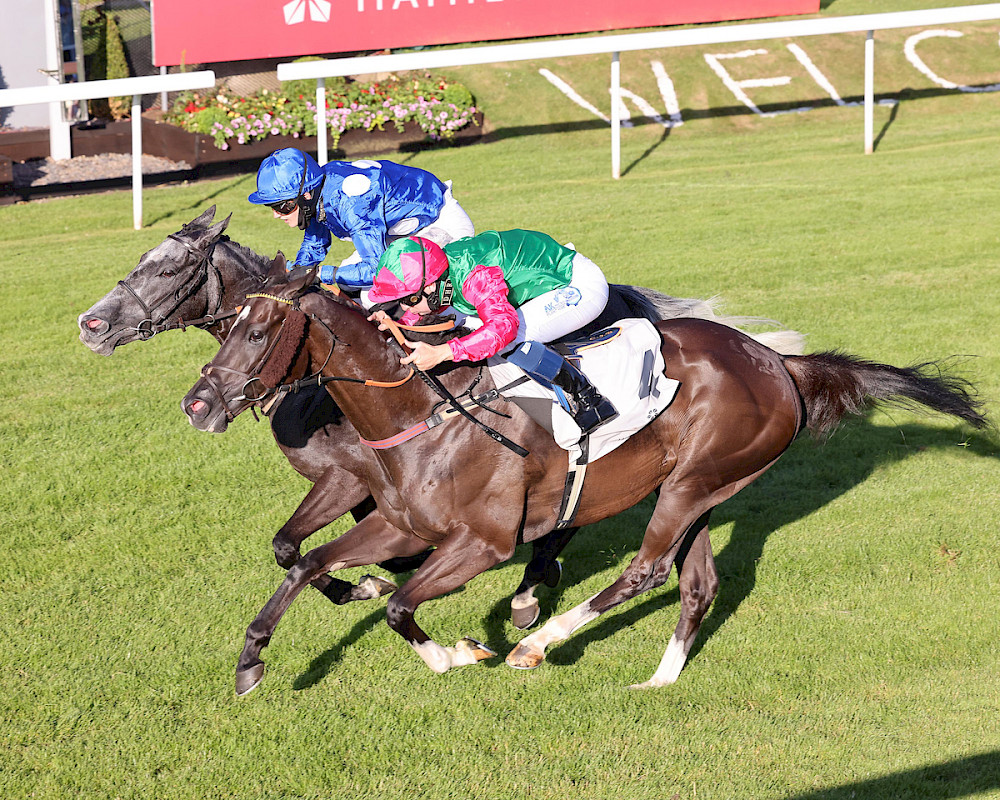 TRAINER Michael Dods has given a positive assessment of the 2021 season after his County Durham stable exceeded its target of 50 winners.
But Dods, who trains at Denton, near Darlington, has also used his end-of-season report to call on racecourses to do more for owners, describing them as "the lifeblood of the sport".
Starting with his assessment on the track, Dods said: "We have to be pleased with the way things have gone and we've won some nice races along the way. We always set a target of getting to the 50 mark and we're on 55 after Azure Blue's win at Newcastle today. We've also had 50 seconds but that's racing.
"It's important to go to the festival meetings, and to try to make a mark, and we've done that this year at Goodwood, York and Newmarket. We want to be winning races at those meetings."
He described the season's highlight as the victory of Commanche Falls, under Connor Beasley, in the Unibet Stewards' Cup at the end of July.
"He won four times for us during the season, including the Scottish Stewards' Cup at Hamilton before the Goodwood run, and he deserves his winter break," said Dods. "It was a fantastic thrill for his owners. We'll look at more nice handicaps for him next season and he might step up to listed class."
Team Dods loves having winners at York – "a racecourse second to none" – and Pendleton, Blackrod, Northern Express and Challet all won for the yard on the Knavesmire. Blackrod (pictured below) stays in training and Dods describes David Armstrong's son of Mayson as "an improving horse who could again step up to listed company".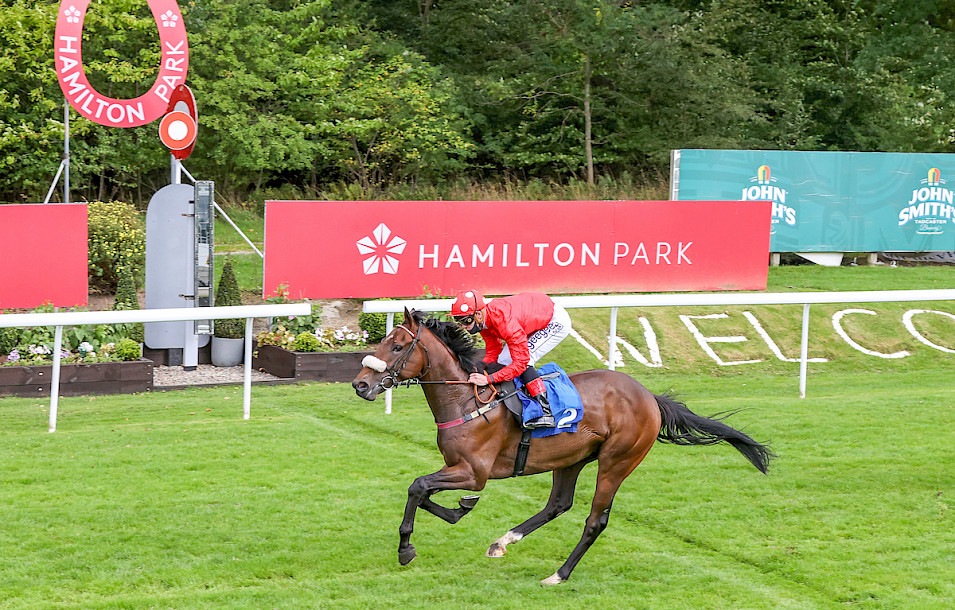 Gale Force Maya was another success story for the stable. She had a particularly busy season, running 12 times, and winning three of them. She also stays in training.
Brunch got off to a positive start in March when he was runner-up in the Lincoln Handicap, and went on to to win a listed race at Pontefract in July.
Motawaazy (pictured below) also deserves a mention in despatches. He joined Dods at the start of the season on a mark of 46 and ended the campaign on 72 after five wins.
The Dods Racing Club was new for 2021 and got off to a winning start with Langholm getting his nose in front at Catterick, as well as Stallone being placed. (The club is a cost-effective way of getting involved in the sport and anyone interested in joining should check out the details at www.michaeldodsracing.co.uk/dods-racing-club).
Inevitably, as with all stables, the year wasn't without its disappointments and it was a more difficult season for last year's star performer, Dakota Gold, who won four sprints in 2020.
"He threw a splint at the start of the season, so we had to go steady with him," explained Dods. "He then didn't get his ground until running well to be third twice at Ascot and Doncaster in October, before disappointing in the listed Virgin Bet Wentworth Stakes at Doncaster on the last day of the flat turf season. We basically ran out of season."
The season also didn't work out as hoped for the classy filly Que Amoro (pictured below), who has been another star for the stable, not least when she was a gallant second to Battaash in the 2020 Group 1 Nunthorpe Stakes.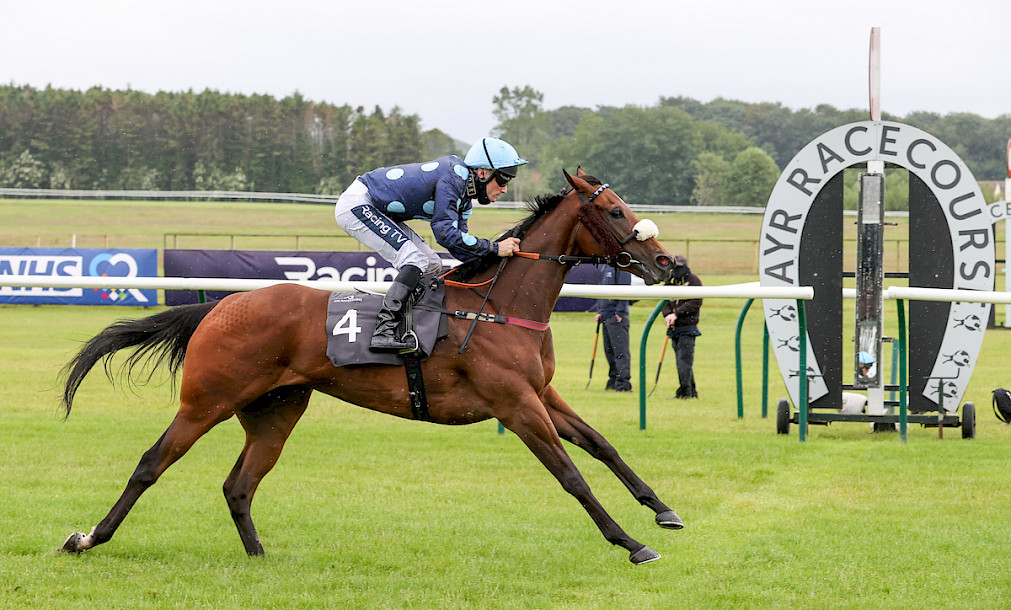 "She goes to the mares sale at Newmarket at the end of this month. She's a big, good-looking sort with an impressive record on the track and she has a nice future as a brood mare," reported Dods.
Meanwhile, the trainer has been busy freshening things up and is delighted with the quality of the yearlings he's been able to bring in.
"The prices were really high this year but we're very lucky to have owners who were prepared to increase their budgets and we've bought some really nice horses," he said, adding that he's also confident that this year's two-year-olds will make up into a nice bunch of three-year-olds for next season.
On to matters off the track, and Dods has made an impassioned plea for a better deal with owners.
"It was so important to get the crowds back for all sports this year. We really missed the atmosphere, and the pandemic has underlined just how vital spectators are," he said.
"Generally speaking, the racing industry did a great job in getting the crowds back safely but we must never forget that owners are the lifeblood of our sport and, sadly, some racecourses used the pandemic as an excuse to do the bare minimum for them.
"York, as always, was exceptional in looking after owners and Chester, Carlisle, and all the Scottish tracks did a good job. But there were others who need to significantly up their game. We also need to get back to providing proper racecards, rather than paper sheets, because people want them.
"Then we have the thorny subject of prizemoney to deal with. We need more transparency over racecourse revenues and how they translate to prizemoney which, all too often, is an insult. It has to be tackled because owners can't go on being taken for granted."
Main picture shows Commanche Falls winning the Scottish Stewards' Cup at Hamilton before going on to win the Stewards' Cup at Goodwood