17-Jan-2022: Latest News from Denton Hall Stables the home of Michael Dods Racing
16-Jan-2022: Great to get off the mark for 2022 with Lady Lou landing odds of 80/1 at Southwell under Callum Rodriguez
Owners welcome Goodwood hero Commanche Falls back at Denton Hall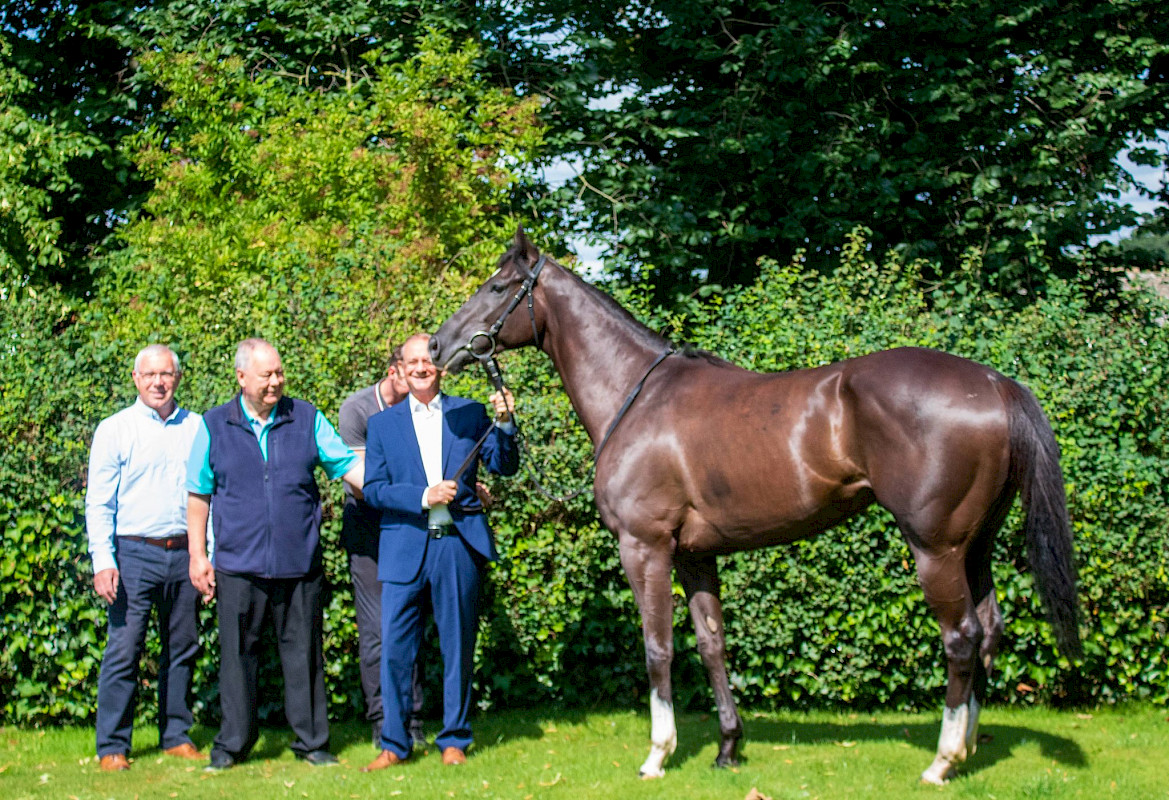 THE jubilant owners of Glorious Goodwood hero Commanche Falls have been reunited with the horse at trainer Michael Dods' Denton Hall yard.
Doug Graham, Ian Davison, and Alan Drysdale were all smiles as they celebrated the four-year-old gelding's scintillating victory in the Unibet Stewards' Cup on Saturday.
The trio also own prolific winner Dakota Gold and Ian Davison said: "I always said we'd never get another horse like him, and maybe we won't, but Commanche Falls is only a four-year-old. He hasn't stopped improving and he's still got huge potential."
Commanche Falls is now being aimed at The Ayr Gold Cup in September and Alan said: "We'll just go with whatever Michael says but that would be a great race to win."
Doug added: "He's improving every time he runs. He was on a mark of 84 at the start of the season and he's now 105, so he has to have a shout in the Ayr Gold Cup, which is one of the biggest handicaps of the season, along with The Stewards' Cup.
"The other good thing about him is that he's won on soft and he's won on good to firm, so he's very versatile when it comes to the ground."
Commanche Falls was bred by Damian and Emma Flynn at Redgate Bloodstock, just outside Newmarket, and bought by Michael as a yearling before being sold on to Doug, Ian and Alan.
"We bought him because he was a half-brother to Dakota Gold and was the last foal the mare, Joyeaux, had before she passed away," explained Doug.
Commanche Falls has now won eight of his 16 races and there was only once when Connor Beasley wasn't in the saddle. That was on October 5, 2019, when Connor was riding Dakota Gold to victory at Ascot, so Andrew Mullen rode Commanche Falls at Newmarket.
The owners were full of praise for Connor's ride in the Stewards' Cup:  "He's riding better than ever and really knows how to get the best out of Commanche," said Ian. "He needs pushing along and Connor's got it off to a tee – he's riding out of his skin."