07-Jul-2022: Latest News from Denton Hall Stables the home of Michael Dods Racing
05-Jul-2022: Wor Willie strides to easy success under Paul Mulrennan at Pontefract
01-Jul-2022: Second career win for Alethiometer under Connor Beasley at Doncaster
21-Jun-2022: Proud Archi makes it five course and distance wins at Beverley
10-Jun-2022: York double for the yard as Northern Express defies topweight under Paul Mulrennan
10-Jun-2022: Gale Force Maya makes it her 10th career win at York
09-Jun-2022: Arch Moon bounces back to form with easy win under Connor Beasley at Haydock
08-Jun-2022: Azure Blue impresses under Paul Mulrennan at Hamilton
Thirsk praised for setting example of improved catering for owners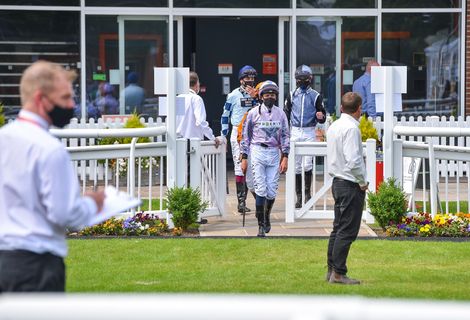 Thirsk Racecourse has been praised for the way it looked after owners at its latest meeting.
Last weekend, trainer Michael Dods criticised some northern racecourses for not doing enough to cater for owners who were described as "the lifeblood of the sport".
However, Michael has praised Thirsk for setting a higher standard at Wednesday's evening meeting and called for other courses to follow suit.
Michael said: "To give credit where it's due, Thirsk did a good job and we just need others to follow their example and up their game."
One of Michael's owners, Martin Pearson, has added to the praise for Thirsk, saying: "To be fair, they looked after the owners pretty well. There was a lady there to show us round and the hospitality was much better.
"There was a choice of salmon or chicken salad, which were nice, plus choice of sandwiches, and three different types of cake. We were also able to go into the bar and be served drinks.
"Under the current protocols and restrictions laid down by the Government, they did a good job."
Mr Pearson cited York as another positive example recently, with a pizza van being arranged and owners allowed to eat pizza in the 'owners and trainers' area. However, in contrast, he said visits to some other courses had been a "very poor experience".
Up until July 28, racecourses were limited to only 'essential food and drink' but the restrictions have now been eased, with courses allowed "to offer hospitality for owners in line with the guidance for restaurants, pubs and bars".
Meanwhile, Mr Pearson has called for a review of the Government restriction which means trainers, who are classed as essential workers, have to sit away from owners.
He said: "At Thirsk, Michael had to sit away from us on his own. I fully understand why trainers have to go through a higher level of bio-security than owners, and why we are not allowed to go to them.
"However, I can't see why something can't be put in place for trainers to come to talk to owners at an appropriate distance. It's important for owners to have that connection to trainers, and it can't be beyond the wit of man to come to a safe arrangement."