07-Jul-2022: Latest News from Denton Hall Stables the home of Michael Dods Racing
05-Jul-2022: Wor Willie strides to easy success under Paul Mulrennan at Pontefract
01-Jul-2022: Second career win for Alethiometer under Connor Beasley at Doncaster
21-Jun-2022: Proud Archi makes it five course and distance wins at Beverley
10-Jun-2022: York double for the yard as Northern Express defies topweight under Paul Mulrennan
10-Jun-2022: Gale Force Maya makes it her 10th career win at York
09-Jun-2022: Arch Moon bounces back to form with easy win under Connor Beasley at Haydock
08-Jun-2022: Azure Blue impresses under Paul Mulrennan at Hamilton
Weekend Update 22 May
We're getting nearer to the June 1st date when racing is hopefully going to resume, and now we know the programme for the first seven days, we've been able to start putting a few plans in place. We still haven't had the exact details of how it's all going to work, but we've been doing everything we can to try to make sure we're in a position where we can adhere to whatever the rules are going to be. Obviously, the most important thing is that it's safe enough to start racing again, but I think we're all looking forward to getting the horses out if we can, and hopefully everything goes to plan for June 1. We've been upping the workload of some of the horses, and they're ready to get going. We're looking forward to getting started in safe conditions.
We've been profiling some of the horses in the yard in the last few weeks, and here are another four that will hopefully do well this season…
PENDLETON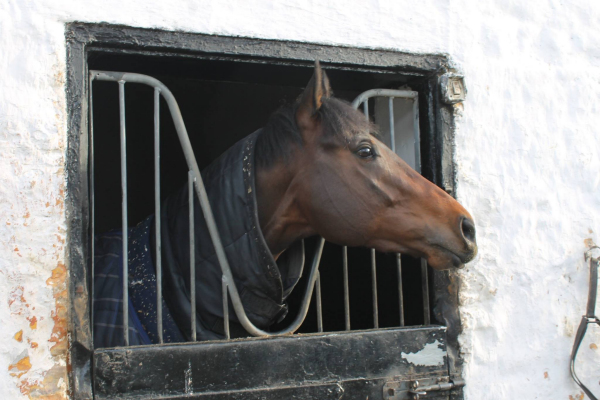 Pendleton had a good end to the season last year, winning at Ascot and finishing second at Doncaster. He likes a bit of juice in the ground, and did well over five and six furlongs last season. As things stand, we're thinking he'll possibly develop into a five-furlong horse this year. We're looking forward to getting him racing. He might not be ready in the first couple of weeks of racing, but it shouldn't be too much longer before he's ready after that. Hopefully, he'll be a decent sprinter for us this year.
QUEENS GIFT
She did well last year, winning a couple of races at Doncaster and Ripon and then twice finishing in the places at Listed level. She likes fast ground, and she's a five-furlong horse, without a doubt. It's possible that we might look to start her off in the Palace House Stakes. That would obviously be a tall order, but with such a limited programme over the next few weeks, we have to look at races we can start her off in. We think she's improved physically over the winter and she certainly looks stronger than she did last year. We'll be starting her off over the five, so the Palace House has to be a possibility.
BILLY NO MATES
He didn't win last year, but I think that was just because he was always a bit too high in the handicap. Hopefully, he'll put that right this season. He ran over a mile-and-a-half and a mile-and-six-furlongs, but if he gets his conditions, I think a mile six could end up being his trip. The ground was pretty testing when he ran last year, and I don't think he quite sees out a mile-and-six in testing conditions. On better ground, though, I think he'd be okay. There's a race at Newcastle over a mile-and-a-half that he could start off in and I definitely think he's a bit better handicapped now, so hopefully that will help.
DANCIN BOY
He won at Redcar last May, but then went a bit high in the handicap after that. He looks to have done well over the winter and seems in good shape. He wouldn't want the ground either too firm or too soft on turf, but there's a race on the all-weather at Newcastle in the first few days that might suit, so we might look at aiming him there. He won over a mile-and-a-quarter, but it's a stiff mile at Newcastle so we might start him off over the mile to get him going